Nightwish. Biography & Music

| The winding road of the best symphonic Heavy Metal band
Tuomas Holopainen founded Nightwish with some school friends, mixing heavy metal and opera thanks to singer Tarja Turunen, but success distanced them and she was fired, the same happened to her replacement Anette Olzon, finding stability with Floor Jansen. Discover the story of Nightwish through their albums.
3 Songs to know
Nightwish
The Poet And The Pendulum
🗿 Name: Nightwish was founded by its keyboardist Tuomas Lauri Johannes Holopainen. 
🎂 Year: Nightwish was founded in 1996.
👫 Genres: Symphonic Heavy Metal, Gothic Heavy Metal and Power Metal
✍🏽 Logo:
💿 Discography:Nightwish has 9 studio albums, many of which have live and instrumental versions of their songs.
👬 Members: The only 2 members who remain from the beginning are: founder and keyboard player Tuomas Holopainen and guitarist Emppu Vuorinen.
The first drummer was Jukka 'Julius' Nevalainen, replaced in 2015 by Kai Hahto. On bass started Sami Vänskä, who was replaced by Marko Hietala in 2002 and made way for Jukka Koskinen in 2021.
As vocalists, the band started with the famous Tarja Turunen, who was fired in 2006, joined by Anette Olzon until 2012, also fired in favour of current Nightwish singer Floor Jansen.
🔗 Nightwish Official website: nightwish.com

I've put my everything, all my soul into this band, created its world of music and escapism and also lost some very precious things from my life along the way, because this band is the love of my life.
Nightwish is all I want to do and all I can do.
Tuomas Holopainen (Nightwish)
Other music stories you'll love
Powerwolf. Story of the wolves
Disturbed. The band of silence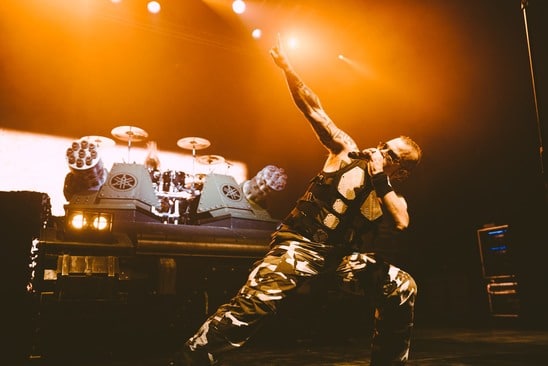 Nightwish |
Biography & Music
Tuomas Holopainen, born in 1976 in Kitee, Finland, had a dream one day, to create a heavy metal band with an opera singer. He gathered a group of friends from school and created Nightwish.
Tuomas has always written all Nightwish albums, but the band wouldn't have made it to the top of the Metal universe without great voices like Tarja Turunen, Anette Olzon and Floor Jansen's, or the legendary bass of Marko Hietala.
But their path has been anything but easy, from Tuomas' lack of self-esteem, to Tarja's diva airs and the many disputes within the band. Nightwish has managed to overcome it all, but their music cannot be understood without knowing their story.
Chapter 1

| The childhood of Nightwish's founder
Tuomas Lauri Johannes Holopainen, or 'Toó' as his family calls him, was born on 25 December 1976 in Kitee, Finland.
His parents, businessman Pentti Holopainen and music and English teacher Kirsti Nortia-Holopainen, gave him a very happy childhood, to which Tuomas has always said he would like to return 🧸
He also has an older sister called Susanna who works as a surgeon-urologist, and an older brother called Petri who is an autopsy assistant.
Tuomas was a very quiet and somewhat naive person, even when he turned 15, who still thought everyone was nice.
Nowadays, he is still introverted, avoids conflicts and likes everyone to get along, something that is almost impossible in a metal band… now you will see.
His musicality and his ability to express texts soon became apparent at school.
His mother enrolled him in piano lessons at school when he was 7 years old.
He later studied clarinet, saxophone, piano and music theory for twelve years at a music school, although he never played clarinet or saxophone again, focusing instead on keyboards 🎹
Interestingly Tuomas wanted to be a biologist and had no interest in heavy metal. Everything changed when he was on a school exchange in the US and a friend took him to see Metallica and Guns N' Roses. That day he got hooked on Metal.
Tuomas Holopainen is a big fan of Disney, Tolkien and Dragonlance. He has incorporated these themes into many of the Nightwish albums.
In 1991, at the age of 15, Holopainen joined his first bands. He played keyboards with metal bands such as Darkwoods My Betrothed, Dismal Silence, Nattvindens Gråt and Sethian.
Still Tuomas wanted to write his own music and soon he was composing.
Then he was drafted into the Finnish army, where he got a position as a clarinet player in the military band, which freed him from the weapons-related activities he hated 🔫
At that time he would start writing his first songs: Forever Moments, Etiäinen and Nightwish. The last one, as you know, would become the name of his band.
Cahpter 2

| From Ambient Music to Heavy Metal
It was the summer of 1996, Tuomas was 19 years old and he was with his friends at a camp around a campfire when he had an idea: "I'm going to start my own band".
It will be an atmospheric band, with acoustic guitars, flutes, piano, strings, and most importantly, a female voice, Tuomas thought.
The first to join was his school friend Emppu Vuorinen. Emppu was always hyperactive, a very funny person, but unable to keep his attention for more than 1 minute. But he was an excellent guitar player.
In a few months the first demo was ready 💿
Emppu would recommend his neighbour and drummer Jukka Nevalainen, with whom he had played in several teenage bands. Jukka heard the demo and agreed to join without hesitation.
Tuomas and Eppu knew a girl from school with great talent and a desire to succeed. Her name was Tarja Turunen. When Tuomas showed her the demo, Tarja loved it and agreed to join the band. She got some homework, she'd had to sing the melody of each song.
Tarja Turunen's early years
Traja had been singing since the age of 3 in the local church, always with a very deep sense of drama, something she also carried into her personal life.
When she heard The Phantom of the Opera for the first time she knew she wanted to sing like that, signing up for classical singing and becoming a soprano.
So they got together recording 3 songs acoustically in the following months. They only used: acoustic guitar, flute, keyboard and vocals.
The acoustic guitar was gradually replaced by the electric guitar 🎸 and they began to incorporate heavy metal elements into their music, creating a different sound that would be the basis for the future of Nightwish.
Among the songs there was a track called 'Nightwish', which the band would be name after.
Thanks to that demo, they were heard by several record labels, signing during the first half of 1997, a contract with Spinefarm Records.
They recorded a new demo of 7 songs and after that another 4 songs, among which was the single 'The Carpenter', with the collaboration of Darkwoods My Betrothed and Children of Bodom.
When Tuomas first heard the song on the radio he felt a mixture of joy and euphoria. Tuomas says it is a feeling he has never felt again. 
The Carpenter reached No. 15 and was a best-seller in Finland.
Nightwish's first album 'Angels Fall First'
In November 1997 'Angels Fall First' was released becaming quite popular.
On the album Tuomas can be heard singing backing vocals, something he would not repeat in the future 😄
Nightwish played their first concert in their hometown Kitee in front of 400 people.
Tarja bought her first lederhosen for the show.
Nowadays the band can't see that performance because of embarrassment, but at the time it was so exciting that they had a big party afterwards.
The 2nd concert would be in Helsinki. Everyone was extremely nervous. Tuomas remembers it as the most nervous moment of his life, even close to fainting.
They got through it, although they could only perform 6 more times because Jukka and Emppu were called up for military service and Tarja hadn't finished her studies.
What are the main themes of the Nightwish albums?
Nightwish's main composer is keyboardist Tuomas Holopainen. A lover of mythology and fantasy, Tuomas also has a special admiration for soundtracks, as well as metaphysics and nature. Tuomas combines all these influences in his songs.
In 1998 the lack of a stable bass player was solved with the addition of Sami Vänskä.
The band members continued to study, but had less and less time, mainly because Tuomas demanded them to practice very hard.
The hard work and commitment would show on the 2nd album, Oceanborn, significantly more powerful and professional than their debut album.
The album moved them away from the acoustic sound and into heavy metal.
Tuomas wrote the whole album solo, but when he finished he realised that what he had written was very difficult to play, especially for new musicians like them.
The worst part was for Tarja, who had notes she couldn't reach yet. Tuomas told how much Tarja cried during the sessions 😭 and the pressure they put on her, which they now regret.
But that wasn't the only thing, the band members criticised Tuomas for taking more of the profits.
As Tuomas was the founder and songwriter of Nightwish, his share was logically higher, but as this caused conflicts, he decided in the following 2 years to split the profits equally.
Moreover, the rest of the members started to protest about not including their compositions on the album. This time Tuomas stood up and said that he would be the only composer. In the end they all accepted it because of his great talent.
These facts turned Nightwish from a group of friends into something more serious, a professional music band.
Nightwish first TV show (1999)
Oceanborn reached number 5 in the Finnish charts, and the first single from the album, 'Sacrament of Wilderness', went straight to No. 1.
Nightwish performed for the first time on television, which was to be their 9th performance as a band.
Although it was not to be released internationally, its success encouraged the label to release it in Europe. Within weeks, the single 'Sleeping Sun (Four Ballads of the Eclipse)' had sold 15,000 copies in Germany.
Nightwish then became the opening act on Rage's 1999 European tour.
Nightwish entered the Eurovision Song Contest
The band decided to enter their country's national selection for the Eurovision Song Contest. They made it to the final but the Finnish TV jury vote meant they came third, having swept the telephone vote. They are very proud to have tried, although they would not do it again 😂
Nightwish's first international performance was in 1999 in Germany during the 'Oceanborn European Tour'.
Life on the road was especially hard for Tarja, surrounded by men who were out partying all day long, for her, who wanted to take care of her voice, it was sometimes difficult.
Anyhow, the members of Nightwish became a family 👨‍👩‍👦‍👦
Nightwish has always considered Oceanborn their best album.
In 2000 Nightwish released their 3rd album, 'Wishmaster'.
It was the first time Tarja felt comfortable recording the songs and as an active part of Nightwish.
The album was released earlier than expected because it was leaked from Russia 🏴‍☠️
It went straight to No. 1 in the Finnish charts.
Despite the success, Tuomas considers it a transitional album, with songs that are personal and full of fantasy, but do not represent a radical shift.
'FantasMic' is a tribute to Walt Disney.
'Wishmaster', 'Elvenpath' and 'Wanderlust' make references to the Dragonlance and Lord of the Rings series.
'Dead Boy's Poem', is, in Holopainen's own words:
It's my legacy and testament to the whole world. I wanted to do this song before I died because I wanted to tell the whole world what I think and feel. It expresses a lot of myself and how I feel about my mother and father.
Nightwish Dead Boy's Poem
Tarja falls in love. First step towards her split from Nightwish
Nightwish went on their first world tour in Europe, North America and South America. Their concerts in Brazil, Chile, Argentina, Panama and Mexico were unforgettable, not only because of the reception of the audience, but also because Tarja would fall in love with the promoter, Marcelo Cabuli.
Tarja still remembers how she was saved by a Mexican fan who climbed on stage at a concert and started groping her, Marcelo went up and gave her a thrashing.
Tarja and Marcelo became sweethearts and eventually became husband and wife 💍
Nightwish Over the hills and far away
In 2001, after releasing a live album called 'From Wishes to Eternity', they would release an EP including the famous Gary Moore song 'Over The Hills and Far Away', which would give its name to the album.
Over the Hills And Far Away reached the number one spot in Finland, but things were not going well within the band.
Nightwish on the verge of splitting
The problems initially centred on the bass player, Sami Vänskä, who, according to Tuomas Holopainen, was always late and didn't take the gigs as seriously as the others.
In turn, guitarist Emppu Vuorinen had begun to complain about his role in the band, feeling like "a hired gun who would only do what he's asked to". After talking to Tuomas, though, the dust settled.
Tarja was also becoming more and more distant from the band, her partner Marcelo had become her personal manager and was with him all the time. She found the tours too long and uncomfortable and let Tuomas know about it.
Tuomas could no longer cope with it all and after the 18 months of touring that ended in 2001, he retired to Lapland with the clear idea to end Nightwish 🥵
Marko Hietala. The bass player who saved Nightwish
Tuomas decided he couldn't throw away his Nightwish dream. He fired the bass player, Sami, and hired Marko Hietala.
Marco (Marko), started playing the piano but after high school he gave it up for the bass. He had not had much luck in music until he came across the band Sinergy, which he joined. Through them he would meet Nightwish.
When they offered him to join Nightwish, he didn't hesitate. He had seen in them Finnish country boys, as he himself was.
Marco was 10 years older than all of them, but that only meant he had more stage experience. Everyone admired his musical qualities, not to mention his skills with the bottle 🍾
Marco accepted his role in the band from the beginning. He knew that Tuomas was the songwriter and Tarja was the star, and his role was to be the stabilizing element.
Besides being a great bass player, Marko had a powerful voice, which Tuomas was desperately looking for, because he wanted to incorporate male vocals in his compositions.
In 2002, just before recording the 4th album, 'Century Child', Tarja gathered the band together and told them that she wanted to focus on her career as a classic solo artist and that after that album, she would de-prioritise Nightwish.
Tarja was very fond of the band and gave them a lot of importance, so she didn't want to just leave.
Musically, Tuomas wanted to make the heaviest Nightwish album, giving more importance to guitars and bass. He also wanted each song to be like a complete soundtrack in itself.
So he did, making it the band's best recording to date.
'Ever Dream', the first single, went gold in Finland in just 2 days.
One of the fans' favourite songs is the version of 'The Phantom of the Opera' from Andrew Lloyd Webber's famous musical.
The song was played at every concert until vocalist Tarja Turunen was replaced by Anette Olzon, after which the band announced that they would never play the song live again.
Nightwish The Phantom of the Opera
Nightwish announced that they would take a break as soon as the 'World Tour of the Century' was over.
The tour was the best one so far, not only because of the passion of the audience, but also because of the good atmosphere Marko Hietala created in the band 🥳
Despite the 400.000+ fans in attendance and the good times, Tarja complained about the poor communication in the band. She said that they didn't even ask her how she was doing.
The rest of the members thought she was in diva mode, always complaining about being sick, tired, overheated…
At the end of the year Nightwish took a break, each of them working on their individual projects: Jukka continued with Sethian and had a daughter named Luna with his girlfriend Satu, Tuomas continued with For My Pain and Timo Rautiainen & Trio Niskalaukaus, Emppu played with Altaria and Marco with Tarot.
In 2002 Nightwish signed a contract with the record label Nuclear Blast, which resulted in a considerable improvement of the marketing of this album internationally.
In 2003 Tarja Turunen married Marcelo Cabulli from Argentina and received a scholarship to study opera singing in Germany.
Nightwish Wish I Had An Angel
Nightwish and the London Philharmonic Orchestra
Tuomas Holopainen thought he had to go one step further on the next album, 'Once'. In order to do it, he hired the London Philharmonic Orchestra, whose musicians recorded all his parts in just 8 hours in the studio.
It is the first time that Tuomas, a person who never had much self-esteem, felt comfortable with the work he had done.
The mixture of heavy metal and orchestra was a milestone that both Tarja and Tuomas are very proud of.
Tarja has confessed that it is her favourite Nightwish album.
'Once', which sold over 1 million copies, was the best-selling album in Europe that year.
The inaugural concert in his hometown of Kitee was a huge event. The town, which has a population of around 10,000, welcomed 5,000 tourists for the event 🏟️
In 2005, after more than 130 performances, their success was such that they even launched Nightwish beer 🍺, which was in great demand in Germany.
Despite the great success, Tarja had been increasingly distanced from the band. She had her own transport, dressing room, bedroom and above all a wall she had built around herself to what she called "protect her voice from the band".
It is true, that her voice required special care, but the band members did not think that such a separation was necessary. Tarja's voice problems were real, though caused by stress and pressure. She even hired a kind of Romanian witch-doctor to help her 🧙‍♂️
Tarja's husband Marcelo acted as a go-between for everything between her and the band, which made everything more complicated, including the money. Marcelo always felt that the money Tarja received was not enough.
It all blew up in 2006 when the band was on their way to Helsinki for the last concert of the tour in front of 11.500 people, which was recorded for a DVD called 'End of an Era'.
On the plane Tuomas sat down to talk to Tarja about the situation and she said something Tuomas would never forgive:
Remember, Toumas, I can leave this band on a day's notice – anytime at all. Remember that when you Think About the future. I can make it on my own perfectly well.
Immediately after this concert, Tarja was expelled from Nightwish in an open letter published on the band's website. It was written by Tuomas Holopainen on behalf of the rest of the members.
Tarja's letter of dismissal from Nightwish
Dear Tarja,
It's time to choose whether the story of Nightwish ends here or whether it will still continue an undetermined period of time. We've been working with this creation for nine years and we are not ready to give up yet. Nightwish is a way of life, something to live for, and we're certain we can't let it go.
Equally certain is the fact that we cannot go on with you and Marcelo any longer. During the last year something sad happened, which I've been going over in my head every single day, morning and night. Your attitude and behavior don't go with Nightwish anymore. There are characteristics I would never have believed to see in my old dear friend. People who don't talk with each other for a year do not belong in the same band.
We are involved in an industry where the business-side of things is a necessary evil and something to worry about all the time. We are also a band which has always done music from the heart, because of friendship and the music itself. The mental satisfaction should always be more important than money! Nightwish is a band, it's an emotion. To you, unfortunately, business, money, and things that have nothing to do with those emotions have become much more important. You feel that you have sacrificed yourself and your musical career for Nightwish, rather than thinking what it has given to you. This attitude was clearly shown to me in the two things you said to me in an airplane in Toronto: "I don't need Nightwish anymore." and "Remember, Tuomas, that I could leave this band at any time, giving you only one day's warning in advance". I can't simply write any more songs for you to sing.
You have said yourself that you are merely a "guest musician" in Nightwish. Now that visit ends and we will continue Nightwish with a new female vocalist. We're sure this is an equally big relief to you as it is for us. We have all been feeling bad long enough.
You told us that no matter what, the next Nightwish album will be your last one. However, the rest of us want to continue as long as the fire burns. So there's no sense in doing that next album with you, either. The four of us have been going over this situation countless times and we have realized that this is the thing we want to do in life. It's all we can do. In December 2004, in Germany, you said that you will never tour again for more than two weeks at a time. You also said that we can forget about U.S. and Australia because the fees and the sizes of venues are too small.
In interviews I've mentioned that if Tarja leaves, that would be the end of the band. I understand that people will think this way. Nightwish is, however, a scenery of my soul and I'm not ready to let go because of one person. A person who wants to focus her creativity to somewhere else, a person whose values don't match mine.
We were never bothered by the fact that you didn't participate in writing/arranging songs, you never in 9 years came to rehearse the songs with us before going to the studio. Not the fact that while on tour you always wanted to fly, separately from us with your husband. Not the fact that you are an undisputable front image of the band. We accepted and felt ok about everything except greed, underestimating the fans, and breaking promises. It was agreed by the five of us that Nightwish would be the priority in everything that we do during 2004-2005. Still so many things were more important to you. The ultimate example being the already sold-out show in Oslo, which you wanted to cancel because you needed to rehearse for your solo concerts, meet friends and go to the movies. Those were the words Marcelo used in an e-mail explaining the cancellation. This being just one example of so many. I couldn't think of a worse way of being selfish and dismissing our fans.
Nightwish is a way of life and a job with many obligations. To each other and to the fans. With you we can't take care of those duties anymore.
Deep within we don't know which one of you drove us to this point. Somehow Marcelo has changed you from the lovely girl you were into a diva, who doesn't think or act the way she used to. You are too sure of your irreplaceableness and status.
It's obvious that you blame your stress and misery on us four. And you think we don't respect or listen to you. Believe us; We have always had the uppermost respect towards you as a wonderful vocalist and as a friend. And very often during the past couple of years the plans were made according to your decisions only. You were always the only one who wanted more money from the shows. This "compensation and more money from everything" –attitude is the fact that we are most disappointed of!
We wish that from now on you will listen to your heart instead of Marcelo. Cultural differences combined with greed, opportunism and love is a dangerous combination. Do not wither yourself.
This decision is not something we are especially proud of but you gave us no choice. The gap between us is too wide. And the decision is made by us four unanimously. We are beyond the point where things could be settled by talking.
All the best for your life and career,
Tuomas Holopainen, Emppu Vuorinen, Jukka Nevalainen, Marco Hietala
Nightwish started auditions to find their new singer immediately. After reviewing over 2000 demos in 2007, they announced that the new vocalist would be Swedish Anette Olzon, formerly of Alyson Avenue, because her voice sounded sincere and natural.
The following day, the single 'Eva' was released, the proceeds of which were donated to the children's charity Die Arche.
The second single, 'Amaranth', was released with an additional song titled 'While Your Lips Are Still Red', written by Tuomas as the main theme for the Finnish film Lieksa.
The album cover, 'Dark Passion Play', was inspired by the short story 'The Pit and the Pendulum' by American writer Edgar Allan Poe.
The first and fascinating 13-minute song of the album also bears that name "The Poet and the Pendulum".
Dark Passion Play is the most expensive album in the history of Finnish music, costing nearly 500.000 € to record 💶
The band would recoup the investment with more than 2 million copies sold, which made Dark Passion Play the band's most successful album.

In our opinion it's the best Nightwish album,

full of great songs like: Master Passion Greed, Last of the Wilds, Sahara, Whoever Brings the Night, 7 Days to the Wolves, Meadows of Heaven, Bye Bye Beautiful and Cadence of Her Last Breath.
In 2011 came 'Imaginaerum', a concept album based on a musical film fantasy of the same name that Tuomas came up with.
The album was accompanied by a film 📽️ of the same name, which included all the songs as well as unreleased tracks for the film. All the band members appear in small roles.
Among the new features on the album was a children's choir accompanying the orchestra.
The first single was 'Storytime', one of the most acclaimed songs on their 2012 "Imaginaerum World Tour".
Anette Olzon is fired from Nightwish
An unexpected chain of events began at the end of September 2012. Anette fell ill and was rushed to the hospital 🏥 just before a concert.
To get out of the situation Nightwish decided to bring on stage Elize Ryd and Alissa White-Gluz, singers of their opening act Kamelot.
Anette got better and sang once more with the band, but after that concert in the US, Olzon and the band split up in 2012.
The band immediately contacted their old friend Floor Jansen, who had demonstrated her vocal skills in the Dutch band After Forever. She learned the songs during the flight, finishing the tour with Nightwish.
Anette stated that she was upset that she had been replaced without being asked for an opinion and without being informed of the decision:
That a show is more important than a member of the band seems to me to be totally out of this world.
Nightwish, for their part, released a statement denying that she had been dropped due to illness or pregnancy, and stating that they had done so because Anette's personality was detrimental to the band.
In 2013, Floor Jansen was made official as the new lead singer of Nightwish.
Also joining as a permanent member of Nightwish was Troy Donockely, in charge of all wind instruments (flute, bagpipes, etc.).
With Floor as frontwoman, Nightwish returned to the studio to record 'Endless Forms Most Beautiful' in 2015.
The album includes the longest song in the band's history, 'The Greatest Show on Earth'. 24 minutes long.
The album revolves around biology, a subject Tuomas has been enthusiastic about since he was a child.
The original drummer, Jukka Nevalainen announced that year that he was retiring due to chronic insomnia. He was replaced by Kai Hahto 🥁, although Jukka would remain as treasurer.
Meanwhile, Nightwish's new singer Floor declared with her typical smile:
This is not only the best album I've ever sung on, but it really is the best album ever.
Nightwish Shudder Before The Beautiful
In 2015 Tuomas Holopainen married Finnish pop singer Johanna Kurkela, with whom he would form the side band, AURI, together with Troy Donockley (the new member of Nightwish) in 2018.
Endless Forms Most Beautiful, was introduced with 'Élan' and would shortly be followed by its live version entitled 'Vehicle of Spirit'.
The album took them on tour to 151 cities, including a cruise ship gig, the 'Nightwish Cruise on the Baltic Sea', their first performance at Rock in Rio Brazil in front of 85,000 people. They also became the first band from Finland to give a sold-out concert at Wembley Stadium in London.
It was time to rest 😴, because as Tuomas himself confessed: "I'm empty of Nightwish songs".
In 2017 the band announced a new world tour called 'Decades: World Tour' to celebrate their 2 decades in music, accompanied by a new compilation album titled 'Decades'.
In 2017 Nightwish was inducted into the Finnish Music Hall of Fame.
In 2020 Nightwish returned with a new album 'Human. :II: Nature.', introduced with the single 'Noise'.
The album is Nightwish's most complex and ambitious to date. It embraces so many literary and scientific sources, as well as nods to Nightwish's own history that fans were blown away 🤯
In 2021 Nightwish's incredible bassist and second vocalist Marko Hietala announced his departure from the band. Marko stated:
Conspiracy is the word of the day. For the people who like them I need to say that my 55th birthday is now on 14th of Jan and I've certainly done my time for now. Blaming for instance Tuomas is an insult to both him and my free thinking. This is a very sad thing to all of us too. Have a care please. […] There are a couple of things agreed on that I will do on 2021. Otherwise I kindly and with respect ask the media, bands, artists projects etc. to not ask me for anything within the next year. I have some reinventing to do. I hope to tell you about it on 2022. It's not a promise though. I am so sorry about this.
He was replaced by Jukka Koskinen, who will play on his new Nightwish album in 2023.
Nightwish live (Facebook Image)
Nightwish have managed to overcome the many obstacles that life in a band brings, and along the way they have won the hearts of millions of fans with their symphonic heavy metal, born of Tuomas' talent. As the most successful Finnish band worldwide, they have as much road ahead of them as they want.
Did you like the Nightwish story? Tell us
🙂