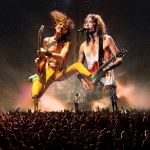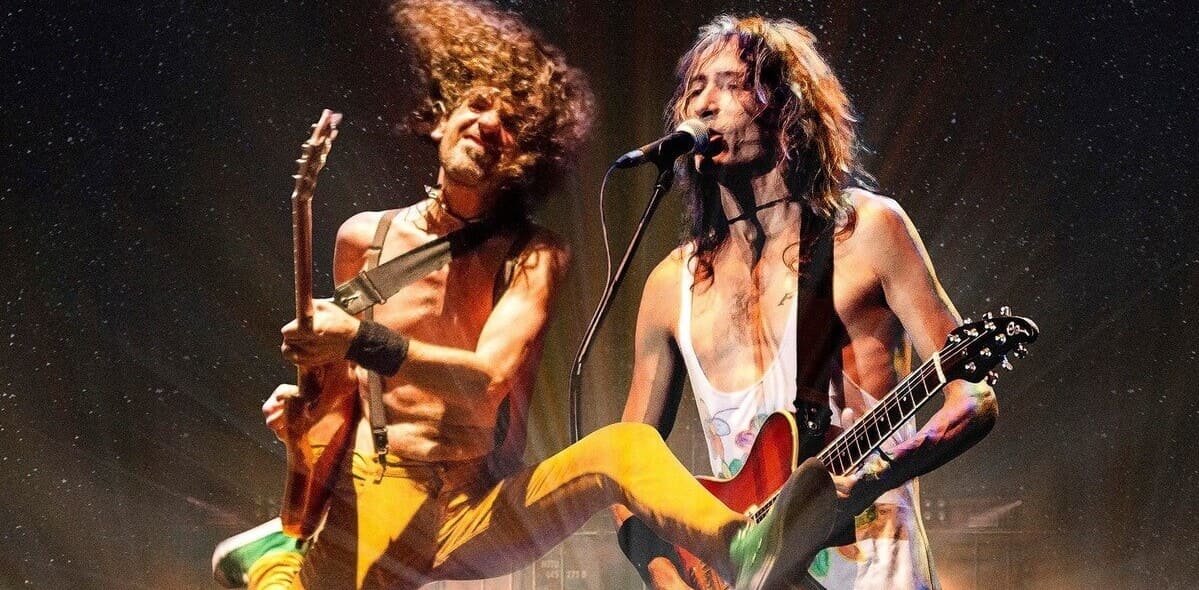 Robe and Extremoduro biography

[1962-2022] The journey of a transgressive legend
Extremoduro is one of the reference Rock bands in the Spanish music scene and Robe Iniesta, its founder, a prophet in his own land who has managed to deal with the phobia of fame. How did this legendary band come about? where are they now? Let¡s go for a ride through the most transgressive Rock 🎸
3 Songs to know

Extremoduro and Robe
"If you go away I'll be left in a dead end street…". This is the fragment of one of Extremoduro's most listened to lyrics. A wonder that Spaniards love.
Extremoduro's most sung track has made several generations of rock lovers jump during their spectacular shows.
Mierda de Filosofía (Fucking phylosophy)
Extremoduro's latest record was long ago (Para Todos los Públicos, 2013), but 2021 has left us with Robe's latest solo album, Mayéutica. A work of art.
Robe and Extremoduro
Trembol Card
🗿 Name:

Roberto Iniesta Ojea, the founder, and Extremoduro, the band

😉
🎂 Year:

Robe was born in

1962 in Plasencia (Caceres, Spain). He formed Extremoduro in 1987.

👫 Genres: Transgressive rock, hard rock and symphonic rock.
✍🏽 Signature: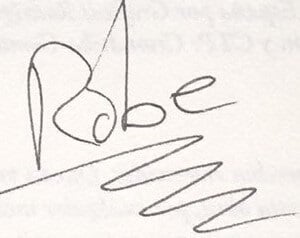 🎻 Instruments: Robe has forged his career as a vocalist and guitarist.
💿 Discography:

11 studio albums with Extremoduro and 3 solo records.

🕴

Original Extremoduro Members

:

Robe formed the band with Kaíto (bass), William (drums), Salo (bass and guitar) and Luis von Fanta (drums), among others.

🧍‍♂️ Latest Extremoduro Members: Robe (guitar and vocals), Iñaki Antón (guitar, keyboards and trombone), José Ignacio Cantera (drums) and Miguel Colino (bass).
🔗 Official websites: https://robe.es/ and https://extremoduro.com/
If they say I'm crazy, it can be
Robe
Other music stories you're going to love
Mägo de Oz. The Rock path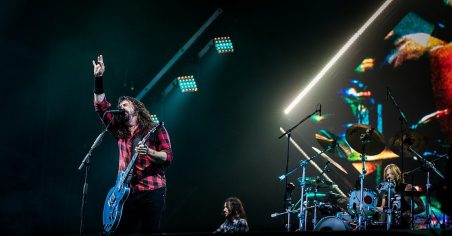 Foo Fighters & Dave Grohl Biography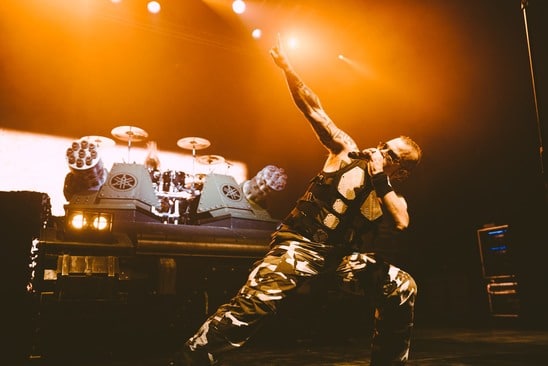 Sabaton. War Heavy Metal Story
Robe Iniesta and Extremoduro |
Discography & Story
Robe (Spain, 1962) has been writing songs and touring all kinds of stages since 1983, when he formed, with some friends, Dosis letal (rock band). They didn't last long, but it was enough for Robe to give his first concerts.
In 1987 he founded Extremoduro, with which he has become a reference in Spanish Rock music for more than 30 years and 11 albums, but Robe has not stopped, he carries on releasing masterful solo albums, including his latest work, Mayéutica.
After a life full of ups and downs, Robe Iniesta currently enjoys a discreet life, living in the North of Spain (Vizcaya), the home of his wife, Bibi Vázquez, with their two children, Naum and Karín.
We tell you everything you need to know about this artist, his successes and failures and the extrordinary band, Extremoduro 🤘
Chapter 1

| Robe's beginnings
Roberto Iniesta Ojea, better known as Robe, was born in Plasencia (Caceres, Spain) in 1962. After dropping out of school, he spent a few years working with his father, who was a sheet metal worker, in addition to being president of the Atletico de Madrid (soccer club) peña in his town.
He also used to sell sweets 🍬 in front of schools.
At the age of 20 he began to write songs and formed with some friends Dosis Letal, his first band, with which Robe only played the guitar because he still did not dare to sing 🎤
After his first concert he said:
From the first day I played live and people didn't leave, I knew that it could work. What I was doing was right, even when only few people went to the concerts. (Biography 'De Profundis', by Javier Menéndez Flores)
Although Dosis Letal life was short, Robe did not give up and moved to Madrid, which would be the first step towards Extremoduro, but before finding his final path in music, he spent some years partying, drinking and trying all sorts of drugs.
I quit heroin long before I started with Extremoduro. I gave it my guts and left it alone. I have always done everything alone.
Robe (El País de las Tentaciones, 1997)
Chapter 2

| Despite all Extremoduro was born
In 1987 Extremoduro was founded, a transgressive rock band in which a young Robe actively participates as singer, guitarist and songwriter.
Initially it only had Kaíto on bass and William on drums, with whom Robe recorded a demo including 'Extremaydura (Extremeandhard)' and 'Romperás (You'll break)'.
Later Salo would join the band on guitar.
These were very difficult years because they didn't get any subsidy from the Extremadura government, which they criticized harshly.
Thanks to the Catalan television, which invited them to a program called 'Plastic', they won some popularity.
In that performance Robe wore a tunic and a crown of thorns like Jesus Christ. It was quite a transgression for the television of the time 📺
Extremoduro Jesucristo García (TV performance in 1990) 
In many towns of Spain, especially in Extremadura, began to appear graffiti of acorns 🌰 (the bands symbol) supporting them and their message.
Thanks to them they were invited by a Spanish radio (subsidized by the government of Extremadura) to give a concert.
The show was a success although it received harsh criticism from the press for the subversive lyrics of the group.
From 1987 to 1989 would be the hardest years for the band.
Extremoduro decided to start selling tickets to cover the expenses of recording their first demo 💰 They sold 250 tickets for few Euros.
Of course, they didn't have enough money, so they took part in music contest. Although they did not win, a manager of a record company called Avispa got impressed with them and signed them for his label to record their first album Tú en tu casa, nosotros en la hoguera (You at home, we at the bonfire), in 1989, which would later be re-recorded with the title we all know, Rock Transgresivo (Transgressive Rock).
Where does the name Extremoduro come from?
Extremoduro is simply a provocative and masculine way of referring to Extremadura, the place where Robe Iniesta was born 😲
The relationship with Avispa Music was awfully bad, due to the low investment of the company, so they broke the contract. Robe declared then:
They were very smart managers from Madrid who had a studio and we were small town rednecks.
Something similar happened to them with the next record label, Área Creativa de Pasión Cía, with whom they released Somos Unos Animales (We are animals), their second album, in 1991.
Although in this company they had better economic conditions, they suffered problems derived from the collection of the author's rights and they also left the company.
The great drummer Luis von Fanta joined the band for this album.
After the disappointments suffered with independent labels, the band receives the opportunity to sign with DRO (later bought by Warner Music) at the end of 1991, with whom their career really takes off.
With them the band recorded the albums Deltoya in 1992, and ¿Dónde están mis amigos? (Where are my friends?) in 1993, in what would be, in Robe Iniesta's own words,

"the age of chaos",

due to several events in his life…
Extremoduro Ama, Ama, Ama y Ensancha el Alma ( (Love, Love, Love and Broaden the Soul))
Extremoduro Papel Secante (Blotting Paper)
…his success gave way to excesses and with them came problems at home, separation from his wife and children, fights with members of other bands and the comings and goings between different cities living in a caravan with the only company of his bulldog Angelito.
I need drugs to write songs as much as I need a pen.
In 1993 Robe decides to change his life a bit and moves to Barcelona, where he spends all his time writing and trying to record a solo album. He would also form a new band, Q3.
Faced with the impossibility of recording an album on his own, the members of Q3 replace his former Extremoduro bandmates. With this new line-up he starts a series of chaotic and unpredictable concerts, reflecting his messy personal situation at the time.
Robe was left alone again until Iñaki Antón 'Uoho', a good friend of his and member of another great Rock band (Platero y tú), introduces Robe to the ones that would become Extremoduro new members: Miguel Colino on bass and José Ignacio Cantera on drums. Iñaki himself would also join them later.
Extremoduro Sin Dios Ni Amo (Without God or Master)
After Barcelona comes Granada (Andalusia), Robe's new destination in 1994. That place inspired him a new project that he called Pedrá (Stoned) project, a 30-minute song 💿
Although Robe's original intention was not to release this work under Extremoduro name, in the end it was published like that due to the imposition of the record label.
His rogue spirit kept up for a time: "I live in a villa with a swimming pool where they serve me bread and weed at home 🥖", he said.
The bad habits began to take its toll on him, earaches, the beginning of tuberculosis… so he decided to slow down and give way to his best period, that of the mature musician and poet.
Chapter 4

| The leap to stardom with Agila
It was time for Robe, along with Iñaki "Uoho" Antón, to redefine Extremoduro artistically and philosophically 🎶
From this musical union Agila was born

in 1996

, a revolution in the rock scene and in Robe's personal life.
The album included So Payaso (Stupid), the fan favourite tune.
Although 1996 was the band's turning point and the peak of success, not everything was positive for Robe, whose father died that year.
Extremoduro So Payaso (Stupid)
Agila was a turning point in all senses. Professionally, he received amazing reviews as "immense songs brimming with poetry unheard of in Spanish rock" and Extremoduro stopped being an underground band to become a mainstream one. On a personal level, Robe reduced his circle of friends, went on to live quietly and returned to his wife Bibi Vázquez, who had always been his muse and his lifeline 👱🏽‍♀️
What does Agila mean?
Agila means "savvy" in Castilian, the Extremaduran dialect, which is not used anymore 😄
Extrechinato y Tú A La Sombra de mi Sombra (In The Shadow of My Shadow)
In 1997 Extremoduro releases Iros Todos a Tomar por Culo (Go to hell), their first live album 🤘
Robe went to live to Muxica (Basque Country), where he still lives today, close to his friend Iñaki Uoho. A perfect place to write songs
In 1998 the band publishes a new album called Canciones Prohibidas (Forbidden songs). After that work, Robe joined again Iñaki Antón and Fito Cabrales, both members of the band Platero y Tú. Together they write Extrechinato y Tú. An album that pays tribute to Manolo Chinato's poetry.
5 years later, another album, Poesía Básica (Basic Poetry), is released with the same team. Elaborated and melodic rock music in which Manolillo Chinato recites his poems between guitars, keyboards and a small orchestra

 

✒️
In 2002 Robe Iniesta returns to Extremoduro with Yo, Minoría Absoluta (Me, Absolute Minority), his ninth studio album.
After this CD, the band went on a hiatus during which they released two compilation albums (Grandes éxitos y fracasos, Episodio primero and episodio segundo). Robe, on the other hand, rejoined Iñaki Antón, with whom he founded a music label, which supports young rock bands.
This album becomes a breath of fresh air for the group because, although they continue to deal with the same topics in their songs, they start adding musical resources that they had never used before.
A year later, Robe publishes El viaje íntimo de la locura (The intimate journey of madness), his first novel. At that time he admited that this book was a revulsive in a period of little inspiration 📖
You spend a long time trying to make song and then… suddenly, inspiration comes and you write them in a moment. That period of creativity, it goes by extremely fast. With the book, the creation process lasts longer. You go to bed with such a good feeling.
Extremoduro A Fuego (On Fire)
Chapter 5

 | La Ley Innata, a work of art
From 2002 to 2008 Robe suffers the longest period of musical drought of his entire career. We guess that's why, when Extremoduro released La Ley Innata in 2008, everyone was fascinated by it.
It is a concept album with a single 45-minute song, divided into six parts: Interlude, 4 movements and coda; Like a classic work.
It was the band's first album to reach the top of the Spanish charts.
The complexity of the album is maximum and features figures such as violinist Ara Malikian.
Extremoduro Dulce introducción al caos (Sweet introduction to chaos)
What does Extremoduro's La Ley Innata mean?
La Ley Innata (The innate law) cover has a text of the philosopher Cicero written in Latin, which says:
There is, in fact, judges, a law not written, but innate, which we have not learned, inherited, read, but from nature itself we have grasped, squeezed, law for which we have not been educated, but made; and in which we have not been instructed, but steeped.
Below you can see the famous Vitruvian Man, drawn in 1490 by Leonardo da Vinci.
Extremoduro Tango Suicida (Suicidal Tango)
A few years later, in 2001, without any kind of promotion, Material Defectuoso (Defective Material) was released. The album stayed at the top of the charts for four weeks.
They went on a long-awaited tour that visited Latin America for the first time, Extremoduro released their eleventh album, Para Todos Los Públicos (For All Audiences) in 2013 🌎
They brought forward the publish date because the album was leaked. Despite that, it managed to conquer the first position in Spanish sales charts.
Highest recognition in his hometown
In September 2014, Robe received the medal of Extremadura (his hometown), considered the highest award granted in this Autonomous Community, for being a great ambassor 🏆
Chapter 6

| Solo career. Robe says goodbye to Extremoduro?
Without completely detaching himself from Extremoduro, Robe surprised his fans in 2015 releasing on the Internet a song called '…Y Rozar Contigo (…And rubbing with you)', an advance for his first solo album, 'Lo que aletea en nuestras cabezas (What flutters in our heads)'.
In this work, Robe Iniesta experiments and shows who he is without leaving aside that transgressive rock that always accompanied him during his more than 20 years in the world of music.
I consider myself more of a poet than a musician, but I'm realizing that my poetry is not just lyrics and that it's increasingly difficult for me to separate one thing from the other. Anyway, what fills me the most is to make beautiful lyrics.
Robe … Y Rozar Contigo (…And rubbing with you)
One year later Robe was back with 'Destrozares, canciones para el final de los tiempos (Destrozares, songs for the end of time)', another solo CD, in harmony with its predecessor and with a clear tinge to his Extremadura, since all the musicians who participated in the recording are from there.
After the first flutter, we present our steady flight into the unknown:
The word "destrozares" is a noun, but it doesn't come as such in the dictionary. Don't waste your time looking it up or trying to understand it. Just feel it.
2018 is the time for live music. This takes shape in Bienvenidos al Temporal (Welcome to the storm), the singer's first album recorded live. Robe compiles in the album all those tracks played on the tour carried out in 2017, belonging to his first two solo works.
In 2019 the end of Extremoduro is announced. We could see it coming because its members, especially Robe, had already taken their own music paths.
In the spring of 2021, exactly ten years after the album La Ley Innata was released, Robe releases a second part called Mayéutica (Maieutics).
It is a masterpiece that deserves its own article.
In 2022 Robe and his band will continue with their Spanish tour called 'Ahora es el Momento (Now is Time)'.
Robe Mayéutica (Maieutics)
Robe Iniesta is one of those transgressor artists that you either love or hate. There is no middle ground in his life but, undoubtedly, whether with Extremoduro or solo, Robe knows how to attract having become a legend of Spanish Rock.
🎁 Robe y Extremduro
best-selling items
Robe Mayéutica
A must have album. With this new work Robe breaks the mold once again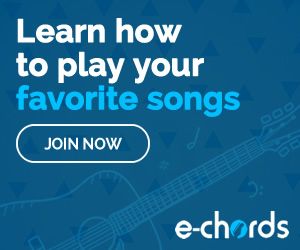 Learn to play like the best
Piano, Ukulele, Guitar, in E-CHORDS they have millions of songs to learn to play your favorite songs.
La Ley Innata
The best Extremoduro album. 2011 edition with remastered versions, with bonus tracks and renewed sound.
All Extremoduro
Records, vinyls, t-shirts... everything from the biggest Spanish rock band and its founder, Robe.
Viaje Íntimo a la Locura
The first novel by a legend of Spanish rock music, Roberto Iniesta of Extremoduro.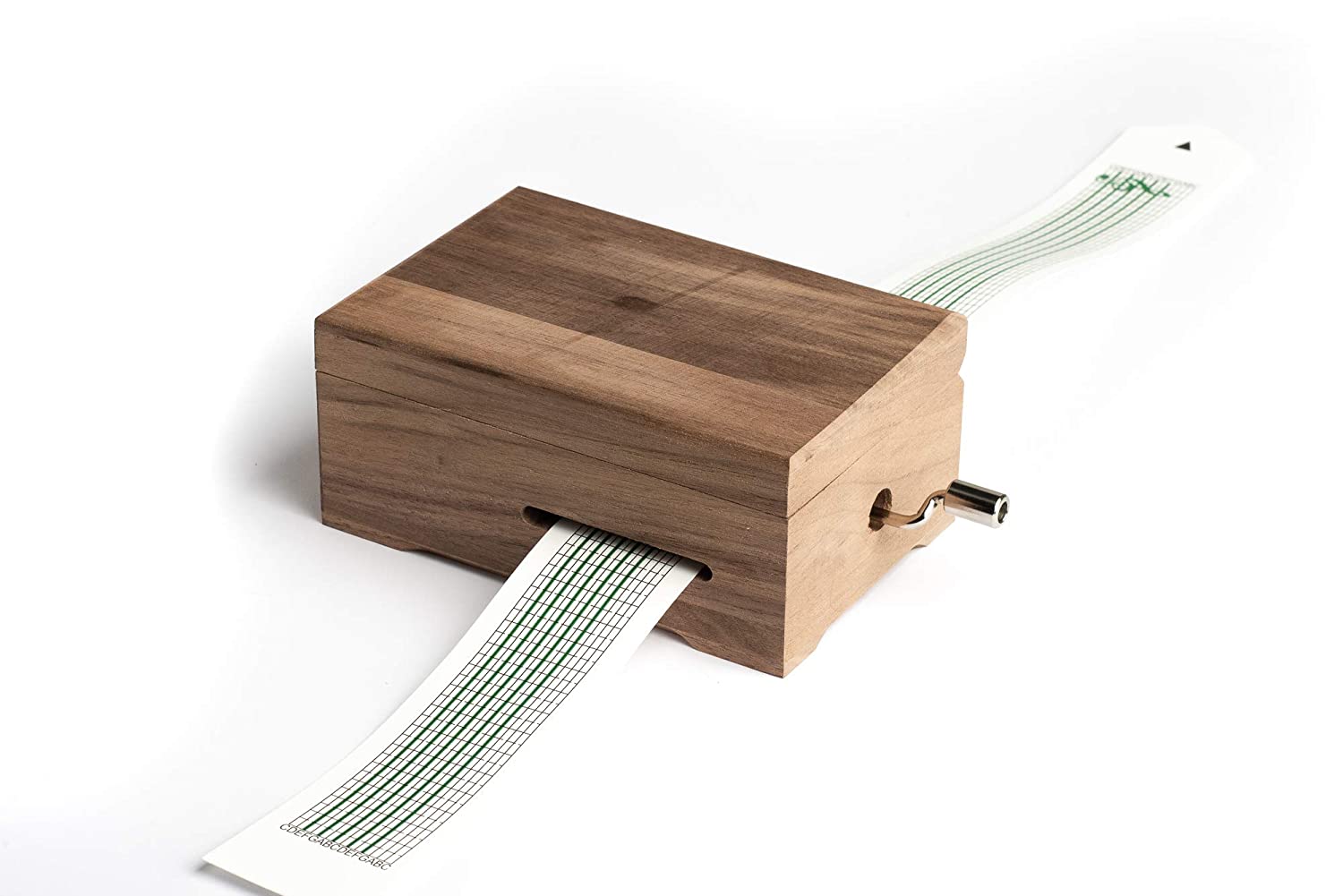 Do you want an original gift? A music box with a melody of your choice or to make it yourself with your favorite artwork.
Header and Social Media Photo: Roberto Iniesta Facebook Image