ROXETTE, Marie Fredriksson and Per Gessle biography

| From Sweden to the world
Roxette became one of the world's most acclaimed bands in the 1990s, thanks to the magical combination of Marie Fredriksson's supremely sensitive voice and Per Gessle's extraordinary songwriting talent. Discover the exciting and sometimes tragic life and music of Roxette, Marie and Per.
Things Will Never Be The Same
The Loneliest Girl in the World
🗿 Name: Gun-Marie Fredriksson and Per Håkan Gessle were the founders of Roxette.
🎂 Year Members: Per Gessle, was born in Halmstad, on the west coast of Sweden, on 12 January 1959. Marie Fredriksson was born on 30 May 1958 in Össjö, Sweden.
🎂 Year Roxette: Roxette was active between 1986 and 9 December 2019, when after years of battling cancer, Marie passed away at the age of 61. Per continues with the project under the name 'PG Roxette'.
👫 Genre:

Pop-Rock.

✍🏽 Roxette autograph:
🎻 Instruments: Both Per and Marie play piano, guitar and sing.
💿 Discography: Roxette released 10 studio albums, plus many live, compilation and rarities albums. Marie Fredriksson released 11 solo albums and Per Gessle 14, including live albums. As 'PG Roxette', Per has released one record in 2022.
👬 Members: Although there are a number of musicians who have accompanied them on tour for most of their lives, Roxette are Marie and Per.
🔗 Per Gessle website: gessle.com
🔗 Roxette website: roxette.se
Do you know what the happiest moment on stage is? It's just the moment when you take the first step on stage and you hear the reactions of the audience. That's the feeling I've always carried in my heart.
Marie Fredriksson (Roxette)
Other music stories you'll love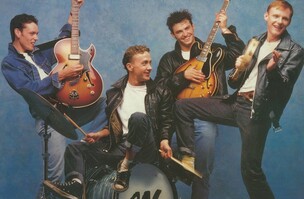 The Cranberries and Dolores O'Riordan. Bio
Phil Collins. Genesis and solo career
Roxette, Marie Fredriksson and Per Gessle |
Biography & Music
Roxette
was a pop rock duo formed in 1986 by singer Marie Fredriksson and singer/songwriter Per Gessle. It is the most successful Swedish group since ABBA.
Their career spans more than two decades, selling 75 million records and winning the love of audiences all over the world.
In their biography you will dicover how they came about, how they became successful, the difficulties Marie and Per went through, and above all, their incredible music. The Look, Listen to Your Heart, It Must Have Been Love, Joyride… there are countless songs that they gave us until Marie's sad death in 2019, after 17 years of fighting cancer.
Chapter 1

| Marie Fredriksson. A small town girl
Gun-Marie Fredriksson
was born on 30 May
1958
in Össjö, a small town in Sweden where there was very little. The best thing was a very nice man who had a hot dog stand.
He used to give Marie free sausages as she had no money
🌭
Her father, Charles Gösta Fredriksson, had a farm, but he had to sell it because of bad harvests. He became a rural postman.
Marie loved to go with his father because they would sing together. When she wasn't singing, she talked non-stop, so her father called her 'the little chatterbox'.
Her mother, Inez Dagmar Fredriksson, managed what little money they had and looked after Marie and her siblings: Tina, Anna-Lisa, Ulla-Britt and Sven-Arne.
Music was very important for Marie's family.
Her father always felt the need to play and sing. Marie and her siblings accompanied him. They were also part of the church choir.
Marie was always the first one to wake up. She would climb into bed and start singing. She couldn't help it. It went on like that all her life 😆
When she was 7 years old a tragedy changed her family's life forever. Her sister Anna-Lisa had a car accident and died on the spot. Her father, who was looking after the car, blamed himself and was shocked for years by taking refuge in alcohol. Marie describes it as a horrible time.
Time passed and in 1966 her father bought a tape recorder with which they recorded songs and theatrical performances.
Two years later, in 1968, they bought a piano. With it Marie wrote her first song about a little grey bird that was falling 🐦
At the age of 12
she started smoking.
Except for her mother, everyone at home smoked. She used to go out with her 15-year-old sister Tina, so she also started drinking at a very young age.
She realised that she was a good musician in the choir.
Marie noticed that she was able to sing loudly and powerfully and that she could move people singing 😭
When she turned 17 she started studying economics, but it was clear to her that her only possible path was music, so she changed to a music module at a nearby university.
With the 8 students in her class, she formed her first band.
Marie Fredriksson confessed:
Every time I went on stage I felt at home. The joy of being on stage is my thing, having that feeling is my identity.
Chapter 2

| Per Gessle and Marie Fredriksson cross paths
At a
Supertramp
concert Marie met
Stefan Dernbrant
, a musician who became her first boyfriend.
She was 21
 and soon moved in with him in Halmstad.
Stefan played drums in a band called Strulpojkar (Street Boys). A boy called Per Gessle collaborated with them from time to time. This is how Marie met her musical partner for life.
Per had his own band, Gyllene Tider (Golden Times).
Marie collaborated with her boyfriend's band, which was renamed Strul.
Marie started to meet people in the entertainment world. A director asked her to compose the music for his play 'Attraktiva attityder (Attractive Attitudes)'.
Marie Fredriksson singing with Strul
Marie Fredriksson singing with MaMas Barn
Marie left her boyfriend and started a relationship with
Strul
leader Martin. With him
she would record her first official single,
'
Ki-i-ai-oo/Strul igen (Lío de nuevo)
'.
At that time Marie's father passed away at the age of 67, without seeing her succeed.
Strul was not very successful, unlike Per Gessle's group, Gyllene Tider, which was breaking through.
Martin and Marie formed another group called 'MaMas Barn (Mama's Children)'.
Gessle thought Marie moved in too hippy circles. He liked pop, Marie liked blues and rock. Marie, for her part, thought Per was a bit of a posh boy 👦. He always had money and was pedantic and tidy, just the opposite of her.
Per Gessle's childhood and early years
Per Håkan Gessle was born in Halmstad, on the west coast of Sweden, on 12 January 1959.
His mother was a housewife and gave private lessons in porcelain painting.
His father, a plumber, worked all day and spent little time with Per and his 2 brothers.
They were a solid middle-class family.
Per started his passion for music with an album by The Kinks called 'The Kink Controversy'.
Per got his first job in a greenhouse, where he grew mushrooms. The next day he got bored with it and changed jobs: weighing mushrooms 🍄
At school he met Mats MP Persson with whom he would found the band Grape Rock and start writing songs.
Soon Mikael Andersson and Jan Karlsson joined them giving shape to the band Gyllene Tider in 1976.
Gyllene Tider performed for the first time in 1978 in a club in front of 50 people, but that didn't stop them from recording their eponymous debut album, Gyllene Tider, in 1979. It was to be a moderate success in Sweden.
When Per and Marie met, Gessle had just recorded the 3rd album with his band and was still living at home with his parents. He was into glam rock, punk and Patti Smith, while Marie lived in a rather revolutionary hippy commune. Of course,
Per always liked Marie's singing
😍
Do you know what song brought Per and Marie together? Tin Soldier by Small Faces. They both loved it.
In 1981 Per and Marie recorded a Christmas song to give away with a local newspaper. The song was called 'Ingenting av vad du behöver (Nothing you need)'.
Did Roxette members, Per Gessle and Marie Fredriksson, have a relationship?
No, Per and Marie were never together as a couple. They were great friends, even siblings, as well as a unique musical duo.
Marie Fredriksson's band, '
MaMas
', got a record deal with the
Metronome
label.
At that time, Marie's feelings oscillated a lot, she was either in a radiant mood or sitting in a corner crying.
Her partner, Martin, was enormously creative, but also domineering, so Marie was never quite at ease.
The album received good reviews, but hardly sold more than 1000 copies, so they left the band.
Marie was inundated with offers to start a solo career. On the advice of Per, she chose EMI.
Marie fell in love with her producer at EMI, Lasse Lindbom, with whom she shaped her first solo album in 1984, 'Het vind (Hot Wind)'.
It was introduced with 'Ännu doftar kärlek (It smells of love)'. It was quite successful, but the album that made her famous among the Swedish public was the second one, 'Den sjunde vågen (The Seventh Wave)'.
Marie would also collaborate with Per's band on their only English album '
The Heartland Café
', released in 1984, which sold 45,000 copies in Sweden.
The label, Capitol Records, released 6 tracks from the album in the US, under the name 'Roxette', because they didn't like 'Gyllene Tider' for the American public. The album did not succeed.
Per and Marie started spending more and more time together. As a result they wrote 2 songs together: 'Ingen kan som du (Nobody knows like you)' and 'Innan du går, kom tillbaka (Before you go, come back)'.
In the summer of 1985 they went on a small tour under the name 'Exciting Cheeses'.
Who created Roxette?
It was EMI label manager Rolf Nygren who first suggested that Per and Marie should form a duo. Rolf remembers:
I remember that Per had written a damn good song. I thought that Per and Marie would fit in as Per writes great music and Marie can sing a phone book and get it (to) sound good. Of course I'm a bit proud of getting the idea for Roxette
Per was surprised that Marie agreed to form a band with him because at that time she was a rising star in Sweden, and Per, on the other hand, had left his band and was not functioning as a solo artist. But Marie said: yes! And so Roxette was born.
Where does the name Roxette come from?
Per was a big fan of a band called Dr. Feelgood. One of his favourite songs was 'Roxette', so he chose it.
By the way, Roxette in slang means super cool girl 👨‍🎤
It was Roxette's big dream to make it abroad.
So much so that Marie and Per made themselves T-shirts with the text: 'Today Sweden, tomorrow the world! 👕
In 1987 they went on their first official tour as Roxette, 'Rock Runt Riket (Rock around the kingdom)', together with Eva Dahlgren, Orup and Ratata, with whom they sang the song 'I Want You'.
History and meaning of Roxette The Look
One day Per approached Marie to show her a new song he had written. Its name, 'The Look'. Marie thought it was the best thing Per had ever written.
The lyrics were completely absurd and wonderful.
When Per composed the song he wrote the first words he could think of that fit the rhythm, just to have something to sing when he wrote the music.
The idea was to rework the lyrics into a song in which Maria sings the chorus: 'He's got the look'. But then Per thought he wanted to keep the crazy lyrics. And Marie thought it suited him much better, so it was Per ended up singing the legendary: 'She's got the look'.
In 1988
Roxette released their second album, 'Look Sharp!'. A real hit
💣
In Sweden they went 7 platinum, and then, thanks to a stroke of luck, international success arrived.
As it turned out, a young American named Dean Cushman, who was in Sweden on a student exchange, heard the album. He liked it a lot, so on his return home he took it to a local radio station in Minneapolis.
'The Look' began to be requested more and more on American radio, until in April 1989 the song became Roxette's first US number 1, and the first song by a Scandinavian artist to reach that position since A-ha's 'Take on me' four years earlier.
The Look reached the Top 1 in 30 countries, becoming one of the most successful songs of the decade with 10 million copies sold.
Roxette Listen to you Heart
'
Look Sharp!
' was a box of treasures:
Dressed For Sucess: The second single which was another hit.
Listen To Your Heart: The duo's second No.1 in the US. Per wrote it after talking to a friend who was having marital problems. Per's advice to his friend was to listen to his heart.
Dangerous: Marie didn't like it at first. Then it became one of her favourites, and the first tune she remembered after her brain tumour.
By 1990 Roxette had become an international group, whose album, Look Sharp!, is still the highest charting album ever by a Scandinavian artist in the US.
History and meaning of Roxette It Must Have Been Love
In 1990 Roxette were approached to write a song for a film with Richard Gere and Julia Roberts called 'Pretty Woman'. They didn't have time because they were on tour, so Per sent them a Christmas song he had written the year before 'It Must Have Been Love (Christmas for the Broken Hearted)'.
The director loved it and even created a new scene in the film for the soundtrack.
He did, however, ask Roxette to change the parts about Christmas 🎄, leaving only 'It Must Have Been Love'.
It sold 9 million copies, reached the Top 1 in 20 countries, is Roxette's most successful song in the UK and is one of the most important ballads in history.
In the words of Per Gessle, its composer, this is the meaning of 'It Must Have Been Love':
When I wrote the lyrics of "It Must Have Been Love", I wanted it to be about how important it is to find a partner in life who makes you better than you are. And the same goes for Marie and me. From a musical point of view, we've always made each other a little better than we really are.
The style of Marie Fredriksson. An icon of the 90s
When the photos for the cover of 'It Must Have Been Love' were to be taken, Marie cut her hair short and dyed it blonde 👱‍♀️
That cut would be the basis of an era-defining style, along with her leather jacket, leather trousers and ankle boots.
In 1991
Roxette released their album 'Joyride'.
The title track of the same name returned the duo to the top of the charts worldwide.
The chorus: 'Hello, you fool, I love you', came to Per when his lifelong girlfriend, who would become his wife in 1993, Åsa Nordin, left him a note saying just that: 'Hello, fool, I love you' 🥰
The singles 'Fading Like a Flower', 'The Big L.' and 'Spending My Time', one of the most beloved songs by Roxette fans, made Joyride a huge success selling over 10 million copies worldwide.
Joyride is considered by many fans to be the group's best album.
Between 1991 and 1992 Marie and Per toured the world with the 'Join The Joyride – World Tour 1991-92'. Almost 2 million people attended 107 unforgettable concerts.
As a result of this time, they released 'Tourism: Songs From Studios, Stages, Hotelrooms & Other Strange Places', recorded during the tour, with some surprises in the form of an unreleased track like, 'How Do You Do!', a new hit for Roxette.
In just 3 years
 Roxette had achieved international success, sold 30 million records, reached Billboard No.1 four times and toured the world.
The money started flowing in. It bought them new houses and Marie's dream, a grand piano.
More than the money, what mattered to them was the pride of becoming international pop stars. It seemed unreal to them! 🤩
By that time Per had already met his future wife Asa, but Marie was very lonely, especially when she was on tour and drank a lot.
That was to change when she met Micke, Mikael Bolyos. They met in Sydney. It was such a love affair that within 3 days they were engaged. Micke became her husband in 1994.
After the tour Roxette took a short break where Marie released her 4th solo album '
Den Ständiga Resan (The Endless Journey)
'.
The album included 'Sparvöga (Sparrow's eye)', the first song that Marie considers completely her own. It became hugely popular in Sweden.
In 1993 they participated in the soundtrack of Super Mario Bros movie with 'Almost Unreal' and made history by being the first non-Anglo band to record an MTV Unplugged.
In 1994
 Marie had her first daughter, Josefin, but while she was still a baby Roxette returned with their fifth studio album,
'Crash! Boom! Bang!', our favourite album.
It marked a strong shift of the band towards rock.
It took them over a year in the studio, but when they finished Per still wasn't happy, he felt the album needed more pop, he started writing and created a distorted guitar riff, pop but heavy. In it he took out his frustration and anger at having grown up. The result was the first single from the album, 'Sleeping In My Car' 🚗 a new hit.
Other wonderful singles were: Crash!Boom!Bang!, Fireworks, Run to you and Vulnerable.
In the US the company supported it little and it sold less, 4 million copies, that's nothing!
Roxette Sleeping in my Car
They went on their 2nd international tour '
Crash! Boom! Bang World Tour 94-95!
' with 80 memorable concerts:
They played in Russia, with Roxette's concert being the first public celebration on a May Day in Moscow since 1917.
In China, Roxette were the second Western band after Wham! to play in the Asian country.
In South Africa, they sang in front of 130,000 people.
Along with the tour they released their b-sides album entitled 'Rarities', with demos, unreleased tracks and remixes.
In 1995 the duo released their first greatest hits album, 'Don't Bore Us-Get to the Chorus: Roxette's Greatest Hits'. It included several unreleased tracks: June Afternoon, I don't want to get hurt, and the song that brought them back into the Top 10, 'You Don't Understand Me'.
Roxette You Don't Understand Me
Roxette's only album in Spanish
In 1996 Marie and Per decided to translate their best known ballads into Spanish as a tribute to their Hispanic audience. The album was called 'Baladas en Español'. As expected it became a record seller in Spain and Latin America with 'Un día sin ti' and 'No sé si es amor'.
Marie had her second child, Oscar, so she decided to take a holiday to devote more time to her family. In 1997, Per and Åsa also had their only son, Gabriel.
In the meantime Per continued his solo career with the release of 'The World According To Gessle', his first solo album in English.
Marie would also do the same with 'I en tid som vår (In a time like ours)', which achieved great success with the song 'Tro (Believe'.
In 1998 Marie and Per reunited after 5 years to compose the new Roxette album, 'Have A Nice Day', released in 1999.
They recorded it in Marbella 🏖️
The musical part was very good. They introduced new electronic elements into their music.
Personally, their new producer, Michael Ilbert, who was overbearing with Marie, made her feel terrible, so much so that she saw herself more and more out of Roxette. Marie lost her will and ended up leaving.
Even so, the album has some excellent songs such as: Wish I Could Fly, Anyone, Salvation and Stars. They were among the 10 most played songs of the year in Europe, selling 3 million copies.
In 2000
Marie Fredriksson released a greatest hits compilation called 'Äntligen (Finally)'
, which became a bestseller in Sweden, reaching number 1 for three weeks.
In 2001 Roxette would make their 7th studio album, 'Room Service', where they continue to use electronic elements, while returning to their rock and pop roots.
'The Centre Of The Heart' was the first single, which took them back to No. 1 in the official Swedish chart. They accompanied the album with a 300,000-strong European tour.
Songs like 'Real Sugar' and 'Milk, Toast and Honey' did not achieve the success of the past, selling 2 million copies.
Marie confessed that she had no motivation for the album, so they decided to take a break. It was a relief for both of them 😌
Roxette The Centre of the Heart
Roxette A Thing About You
Between 2002 and 2003
 Roxette released two compilations:
The Ballad Hits
and
The Pop Hits
, featuring '
A thing about you
' and '
Opportunity Nox
'.
All seemed to be going well, Roxette were preparing a comeback tour when all hell broke loose.
Marie Fredriksson's brain tumour
It was 11 September 2002, Marie went for an early morning run, as she often did. When she came back she started to feel nauseous, had an epileptic seizure and fell to the ground, fracturing her skull. The next thing she remembers is waking up in the hospital with a doctor telling her that they had to cancel the tour because she had a brain tumour 🧠
The doctor told her husband Micke that she had one year to live, or at most three. He turned pale and decided not to tell her, to keep her and their children, Josefin and Oscar, then aged 9 and 5, hopeful.
She had a successful operation and underwent chemotherapy and went bald. The media constantly speculated about her health, making her family life very complicated.
Marie moved away from music, until 2 years later she composed with her husband Micke a new solo album, '
Mazarin
', released in 2003. Per Gessle would do the same in 2005 with '
Son Of A Plumber
'.
Unfortunately, the disease was still there. So much so that in 2003 she could no longer understand basic things like opening the door.
She underwent a third operation to remove the part of her brain damaged by radiation. After the operation she suffered from a kind of aphasia. She knew all the time what she wanted to say, but she couldn't find the right words. For two years he could hardly say anything.
Moreover, because of the 32 cortisone pills she had to take every day, her face swelled up so much that she didn't even recognise me. She was totally sunken, she felt ugly and lonely.
During her recovery she began to draw. Her illustrations were exhibited in several art galleries. She also used one of the drawings as the cover of her solo album 'The Change'. It was 2004 and she was on the road to recovery 👩‍⚕️
In
2005
 Per received a BMI award in London for being the composer of two of the most played songs in recent years on American radio stations, '
Listen to Your Heart
' and '
It Must Have Been Love
'. It would be at the awards ceremony that Per and Marie would sing together for the first time in three years.
As a celebration of the band's 20th anniversary,

in 2006

 they released a compilation box set called 'The Rox Box', with 2 new songs: One Wish and Reveal.
In 2009 Marie was feeling better so she decided to go on tour again with Roxette. There would be 40 unique concerts in Europe.
Per was a great support for Marie, he always believed in her strength and was a very positive person who constantly encouraged her. Thanks to Per Roxette came back.
Roxette She's got nothing on (but the radio)
In 2011
the great news for Marie was confirmed, the cancer had disappeared
🥳, although unfortunately all
the lesions
left by the radiation on her bones, hand, legs, brain,
would remain with her for the rest of her life.
That year saw the release of a new Roxette album, 'Charm School', presented with 'She's got nothing on (but the radio)'.
Other subsequent singles included: Way Out and No one makes it on her own.
They went on a world tour where they revisited Russia, South America and all continents, playing over 80 concerts.
Roxette's 9th studio album, 'Travelling', would arrive in 2012 with the single 'It's Possible'. The album mixed new songs with live tracks and new covers.
In 2013
 Per Gessle reunited with his former band
Gyllene Tider
, releasing a new album and touring Sweden.
Marie would do something similar in 2014, touring solo with her album 'Nu! (Now!)'.
The biggest challenge for her was learning the old lyrics. With her neurological injury it was extremely difficult. Her son Oscar helped her by repeating them word for word, over and over again.
The tour was a musical and above all a personal success.
Marie and Per went on a world tour again
and she had to sit down for the whole concert for fear that her foot would fail her 🦶, as it had been doing for years, and she would fall.
What was to be Roxette's last album, 'Good Karma', would not arrive until 2016. The first single, 'It just happens', hit the charts in many countries.
The idea was to tour again on the 'Roxette 30th Anniversary Tour', but they had to cancel when doctors advised Fredriksson to refrain from travelling due to his worsening health.
The death of Marie Fredrickson
Sadly, Marie Fredriksson would pass away on 9 December 2019, aged 61, having battled cancer for the last 17 years of her life.
Per Gessle composed the song 'Around the corner (The comfort song) in tribute to Marie, writing these words:
Time goes by so quickly. It's not that long ago we spent days and nights in my tiny apartment in Halmstad, listening to music we loved, sharing impossible dreams. And what a dream we eventually got to share!

Thank you, Marie, thanks for everything. You were an outstanding musician, a master of the voice, an amazing performer. Thanks for painting my black and white songs in the most beautiful colours. You were the most wonderful friend for over 40 years. I'm proud, honoured and happy to have been able to share so much of your time, talent, warmth, generosity and sense of humour. All my love goes out to you and your family. Things will never be the same.
Roxette today
In 2020, a previously unreleased Roxette track called 'Let your heart dance with me' was released as part of their 'Bag of trix' compilation albums.
In 2021, Roxette released a 30th anniversary edition of Joyride, and in 2022, a triple compilation album full of remixes, ROX RMX.
In 2022, Per Gessle, under the name 'PG Roxette', released a single called 'The Loneliest Girl In The World'. The single previews the album 'Pop-up Dynamo', which Gessle would record with members of Roxette's touring band.
Per wants to move on with Roxette, with Marie always being in his heart ❤️
Do you like Roxette? Tell us about it
🙂