Alejandro Sanz biography

| The greatest Spanish artist in history
Charm, blessing, gift, poetry; all these words define the artistic capacity of Alejandro Sanz, a boy who came out of a complicated neighbourhood in Madrid to make the world fall in love with a handful of songs from his heart and soul. This is the complete story of Spain's most international singer, Alejandro Sanz.
Alejandro Sanz
Trembol Card
🗿 Name: Alejandro Sánchez Pizarro. His stage name is Alejandro Sanz.
🎂 Year: Alejandro Sanz was born on 18 December 1968 in Madrid, Spain.
👫 Genres: Alejandro has played everything, with a Pop base, he has moved through Rock, Flamenco, Cuban son and many other Latin rhythms.
♈ Autograph:
🎻 Instruments: Voice, guitar, bass and piano
💿 Discography:By 2023 he had released 13 studio albums, 1 EP and 14 live CDs/DVDs.
🌐 Alejandro Sanz Official website: alejandrosanz.com
Selling records is not what matters most to me, but doing what I want to do and how I want to do it. That's what I'm doing and I wouldn't change it for the world.
Alejandro Sanz
Other music stories you're going to love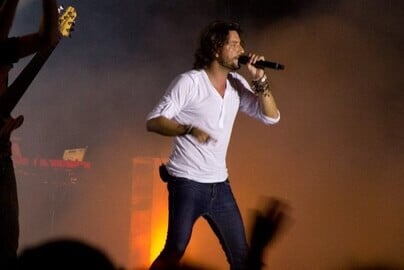 Manuel Carrasco. The story
Ricky Martin. Complete biography
Marc Anthony. The king of salsa
Alejandro Sanz |
Biography and Music
Chapter 1

| Alejandro Sanz's childhood
Alejandro Sanz, or rather, Alejandro Sánchez Pizarro was born in Madrid on 18 December 1968.
His father, Jesús Sánchez Madero, as well as his mother, María Pizarro Medina, were from Cadiz, where they spent many summers ☀️, hence Alejandro's Andalusian accent.
Alejandro has only one brother, Jesús Sánchez Pizarro, one year older than him.
His passion for music started very early, when he was only 7 years old he started playing the guitar and by the age of 10 he was already composing his own songs.
He had a very important influence from his father, Jesús, who had an artists' agency and during the 60s was a member of the groups 'Trío Juventud' and 'Los tres de la bahía', even opening for Manolo Escobar and Lola Flores (popular singers at the time in Spain).
Jesús spent long periods away from home playing with his band. He was a great friend of the composer Manuel Alejandro, who would become Alejandro Sanz's godfather.
His mother, whom Alejandro called "the boss 👩🏼‍⚖️", told him that music was for one in a million. To which Sanz replied that he would be that one.
Alejandro, who grew up in Madrid, was expelled from María Pineda High School for indecorous behaviour, they said he groped the girls, although he said they wanted him to. As life would have it, it wasn't long before young girls were chasing him through the corridors of the school.
He became a restless and rebellious boy, although everything would change when he arrived at the Teide vocational academy, where he would begin to study administration.
The director managed to focus him and give him back his enthusiasm; their relationship was so good that, years later, Alejandro would hire him as a manager.
He spent many holidays in his mother's hometown, Alcalá de los Gazules, as well as in his father's city, Algeciras. Both are in Cadiz (Andalusia), where Sanz has filmed some of his video clips as well as having dedicated several songs to it, such as 'Llueve Alegría (Hapiness rains)' with Malú.
At the age of 14 he began to move in flamenco environments. This musical style guided his first artistic steps, a few years later he was part of a group of sevillanas called 'Sol y Arena (Sun and Sand)'.
At that same age, Alejandro ran away from home, although it only lasted one night, because he was cold and hungry and went back home.
However, in his adolescence, he had already decided that he wanted to dedicate himself fully to music.
Alejandro Sanz, Malú Llueve Alegría (Rains Joy)
The second time Alejandro ran away from home was in pursuit of love.
In an ouburst Alejandro broke up with Marta, his girlfriend from the age of 13 to 18, she went to Galicia and Sanz, repentant, decided to go after her.
To make a living he used to play in bars where he was paid with a plate of food 🍽️. He did not manage to get the girl back, but he gained a lifetime experience.
Alejando's first nickname was 'El Cané', which is a card game with which he used to have fun with his family, even performing under that name.
Chapter 2

| From Heavy Metal to Alejandro Magno
Alejandro Sanz or 'Alex' as his family and friends also called him, was very restless inside and soon became interested in books, devouring Bécquer, Rosalía de Castro, Miguel Hernández, Delibes, Neruda or García Márquez.
Not only literature, he was also very fond of painting, in fact he has several tattoos related to Picasso's Guernica and he paints assiduously, having had several exhibitions 🎨
At that time Alejandro started to receive special guitar lessons for flamenco with Miguel Angel Ardenas, through whom he got some jobs in recording studios doing choirs and musical accompaniment, which allowed him at the age of 16, to earn his first money from music, about 30 dollars.
He also took singing lessons with the famous French singer Robert Jeantal.
Surprising as it may sound, his first band was Heavy Metal 🤘🏼. He formed it together with his friend Carlos Rufo, under the name 'Jinete Inmortal (Inmortal Rider)', which they would later change to 'Hiroshima'. They didn't have any success giving only 1 concert.
At that time Alejandro had to play even in nightclubs.
Who is Alejandro Magno?
In 1989, at the age of 21, Alejandro Sanz left his Heavy Metal band, taking a radical turn in his career by recording the album 'Los chulos son pa' cuidarlos (Pimps are to be taken care of)', under the pseudonym Alejandro Magno.
Composed by his friend and producer Capi, except for one track written by Alejandro, 'Tom Sawyer', it was a Techno-Rumbero style album containing 10 tracks.
Alejandro appeared in a bullfighter's jacket, a Batman or smiley t-shirt and torn jeans.
He was able to record it thanks to the wealthy Galofré family, whose house Alejandro used to go to to sing when he was a child.
Alejandro Magno Los chulos son pa' cuidarlos (Pimps are to be taken care of)
The album, released on the Hispavox label, was not publicised and Alejandro Sanz himself does not consider it part of his discography.
As that didn't work out, in 1990 he began to compose lyrics and melodies for other groups and soloists, such as Los Chicos De Tass and Juan Carlos Valenciaga, along with Tino Casal, while also getting into production with the group 'La Ventura'.
Alejandro continued to write songs, presenting the label (Hispavox) a demo that would become later his first official album, 'Viviendo Deprisa (Living Fast)'.
The record company rejected the demo, but fortunately, another label, Warner Music was interested in his great charisma and his special talent for composing songs:
Warner signed Alejandro and set the marketing machinery in motion.
The first thing they did was to change his surname from Sánchez to Sanz, because it was shorter and easier to remember.
Alejandro Sanz Viviendo Deprisa (Living fast)
Alejandro Sanz Pisando Fuerte (Stomping)
The album was released in 1991 with 10 songs of his own. It was produced by his mentor and great friend Miguel Ángel Arenas "Capi" and was recorded entirely in Spain.
The album, with a clear pop-romantic style, was aimed at a female audience.
It made him a teen idol at the age of 23 with more than 1 million copies sold.
Critics said that his lyrics were too complex and that this would not appeal to the youth of the time, although they were clearly wrong 😆. The biggest hits, along with 'Los dos cogidos de la mano (The two holding hands)', were:
Pisando fuerte (Stomping): Inspired by Yolanda, a girl he met at a fair and who awakened carnal love in him. The song talks about a relationship between a boy and a girl a little older than him, claiming that love has no age.
Viviendo deprisa (Living Fast): This song is about the rush that young people have to live.
Se le apagó la luz (His light went out): Song dedicated to a friend of Alejandro's who died in a motorbike accident.
These songs topped the charts in Spain for more than 8 consecutive weeks.
By the way, some of the songs are credited to A. Medina (Algazul Medina), a pseudonym that Alejandro used at the beginning of his career.
Alejandro Sanz thus embarked on his first tour of Spain, giving his first concert on 14 November 1991 at the Real Madrid Sports Pavilion, on what he calls the most emotional day of his career.
The album would even reach Iran and Israel
Alejandro was still living with his parents in a flat in Madrid. Everyday dozens of teenagers would gather in his doorway to ask for his autograph. He also received hundreds of letters, so many that it was impossible for him to read them and reply personally, what he always did and still does is send back a signed photo, so if you want one, you know what to do. Alejandro says that maybe when he turns 80 he will answer them all one by one, who knows.
Due to the overwhelm of success, after selling 1 million copies of 'Viviendo Deprisa' he went to a house in Cadiz, Andalusia, to hide 🕵🏼
At the end of 1992, Alejandro Sanz travelled to London to prepare his second album with the collaboration of Paco de Lucía.
Ever since Sanz was a child he used to spend his summer holidays in Cádiz, where he established a very close relationship with Paco de Lucía. In fact, Sanz has stated that listening to Paco at the age of 12 is what made him want to be a musician.
Throughout his career Alejandro would follow the reference and advice of the great maestro.
Sanz, as he himself says, is a flamenco without a flamenco card, he is not as intense, nor does he have the depth, nor the 'quejío', but he knows the nooks and crannies of the compás to take them to his own terrain.
In 1993, at the age of 25, he fulfilled an outstanding debt he had with himself, he started to learn to play the piano 🎹
Alejandro Sanz Si Tu Me Miras (If You Look At Me)
Alejandro Sanz Mi Primera Canción (My first song)
The album 'Si tú me miras (If you look at me)', was released in 1993, receiving great reviews, such as the one that called him a "musical poet". Truth is that the album was a step forward, showing a more mature Alejandro Sanz, talking about social issues in several of his lyrics.
The most important singles from the album were:
Si tú me miras (If you look at me): Dedicated to his first love, Almudena, the song expresses how it takes courage to say 'I love you' to the person you love when they look at you.
Cómo te echo de menos (How much I miss you): Demonstrates the feeling of desperately wanting to get back together with someone.
Mi Primera Canción (My first song): One of the fans' favourite songs. Composed with Paco de Lucía, it tells the true story of his first loves. All the names Alejandro mentions in the lyrics are real girls 🥰
In 1995 and looking for a more international sound, Alejandro travelled to Venice, to record '3', together with his usual producer, Capi and the Italian producer Emanuele Ruffinengo. The label decided to release the album in Europe and America.
The record included the awesome cut 'Mi Soledad y Yo (My Loneliness and I)'. The song tells everything you wouldn't want to happen in a long distance relationship: the cheating, the betrayal, hearing that your partner is with someone else…
'La fuerza del corazón (The power of the heart)' is undoubtedly one of the most powerful and special songs of his career, a hymn to the power of love, described as a mystical whirlwind that can do anything.
In the mid-1990s, it was common to make crossovers, that is, versions of albums in other languages. Alejandro releaded 2 special editions of '3', one in Italian and the other in Portuguese, achieving gold 📀 and platinum 💿 records with these works.
Alejandro Sanz's music was an undisputed international success, so his economic situation improved a lot, so much so that he bought his father a luxury car and his mother a hairdressing salon, also acquiring a 600 square metre house for them.
Alejandro Sanz Mi Soledad y Yo (Mi Loneliness and I)
Alejandro Sanz La Fuerza del Corazón (The power of the heart)
The definitive consolidation as a top artist would come in 1997 with the album 'Más (More)'.
His audience went from being mainly young and female to all ages and genres, becoming the biggest Spanish artist of the moment.
Alejandro wrote more than 30 songs for 'Más'. Such was his obsession that he would not leave his room, they even left his food at the door. The result was worth it.
Alejandro Sanz Y, ¿Si Fuera Ella? (What if it were her?)
The first single, 'Y, si fuera ella? (What if it were her)' is an overwhelming, hypnotic, great song. With an impossible cadence and construction, it talks about all the people that we pass by among whom you could be the love of your life.
A true masterpiece. One of my 3 favourite songs of all time.
The biggest hit of the album and of Alejandro Sanz's career was 'Corazón Partío (Broken Heart)'. More than 70 weeks in the international charts corroborate this.
The chorus came to Sanz immediately when he was in a hotel in Monterrey, although it took him two years to finish it.
When he wrote it, he thought he had come up with a song for a flamenco electro-pop group. Alejandro could not have imagined that this rumba would end up being the most important song of his career.
The song uses a very obsessive cadence raising the pitch and intensity little by little until the end.
When the album was about to be released, Alejandro was still thinking about the song, so much so that he called Vicente Amigo, Rubem Dantas and Alfredo Paixão to round out the tune. They recorded it live and it went down in history.
Alejandro Sanz Corzón Partío (Broken Heart)
Alejandro Sanz Amiga Mía (My Friend)
This smash hit was followed by another huge hit, 'Amiga mía (My friend)'. The true story of a friend with whom Alejandro Sanz was in love, but she had a crush on another mutual friend.
'Aquello Que Me Diste (What You Gave Me)', at the end of which a glass shattering can be heard symbolising the end of love, won Video of the Year.
The songs 'Si hay Dios (If there is a god)' and 'Siempre es de Noche (It's always night time)' also topped the charts in Latin America, surpassing the record of number 1 singles from his previous album.
Alejandro Sanz embarked on his first world tour throughout 1998 and 1999.
80 sold-out concerts in Spain, Argentina, Chile, Brazil, Ecuador, Venezuela, Mexico, USA, Portugal, Italy, UK, even Asia. Everything was immortalised on CD and DVD.
The album 'Más (More)' sold more than 5 million copies worldwide and is considered Alejandro Sanz's most successful album, as well as being the best-selling album in Spanish music.
The repertoire of songs was such that one of the songs that was left out was another mega-hit 'Aprendiz (Apprentice)'. Alejandro gave it to his great friend and niece of Paco de Lucía, Malú.
Alejandro Sanz Cuando nadie me ve (When no one sees me)
In 2000 Alejandro Sanz returned with a new album, 'El Alma al Aire (Soul in the air)', the first album he recorded in Miami. In Sanz's own words, the title comes from the two ingredients for the music's stew, the air and the soul 🌬️
With a more flamenco and Mediterranean feel, the album broke the sales record in Spain with 1 million copies sold in 1 week.
Especially thanks to the success of 'Cuando Nadie Me Ve (When no one sees me)'. This beautiful and complex song talks about a lonely man who remembers the person he loves and struggles to forget that this person is far away, recreating the love he feels.
Alejandro Sanz Quisiera Ser (I'd like to be)
The video for the second single, 'Quisiera Ser (I'd like to be)', features Spanish model Esther Cañadas. The tune is a declaration of principles, a different way of expressing the greatness of a heart that feels imprisoned by words.
The third single is the title track of the album, 'El Alma Al Aire (Soul in the air)', a way of living life and understanding things with the soul out in the open.
With more than 5 million copies sold worldwide, Alejandro would present the album in a new world tour, whose culminating concert would be at the Vicente Calderón Stadium in Madrid in front of more than 60,000 people, which was later released on DVD.
Incidentally, the album hid a secret song called 'Desde mis centros (From my centres)' which could only be heard if you left the record on for two and a half minutes after the last song.
Alejandro would meet Jaydy Michel in Madrid where she, a Mexican by birth, was trying to start her career as a model and actress.
Alejandro still remembers the denim dungarees and freckles on her face that made him fall in love with her on the first day.
They began dating and started living together, but after an argument in 1997, Jaydy moved back to Mexico. Soon after Alejandro went there on his 'Más' tour, he went to look for her and with ring in hand he proposed.
In December 1998, Alejandro Sanz and Jaydy Michel got married in Bali 💍 under a rite that is not accepted in Spain, something they didn't mind because they knew their union was real.
On their return to Spain they went to live at Miguel Bosé's house for more than a year.
In 2001 their daughter Manuela Sánchez Michel was born. There was much speculation that it had been a relationship of convenience to project her modelling career and to quell rumours of Alejandro's alleged homosexuality, which was clearly false.
In 2001, Sanz would make a double collaboration with the Irish group The Corrs, singing 'The Hardest Day' and 'Una Noche (One night)'.
That same year he became the first Spanish artist to make an MTV Unplugged.
The album included a song dedicated to his daughter Manuela, 'Y sólo se me ocurre amarte (And all I can think of is loving you)'.
Alejandro Sanz began to express his art with other facets such as photography and painting, holding several exhibitions of his own paintings 🖼️
Alejandro Sanz Y solo se me ocurre amarte (And all I can think of is loving you)
Aeljandro Sanz No es lo mismo (It's not the same)
Alejandro moved to Miami and began to work with new Latin musicians and producers, which brought a new air to his music.
The result was his new album in 2003, the first he produced himself, 'No es lo mismo (It's not the same)'. It was a major shift in his sound towards a urban style.
It was presented with an optimistic and upbeat song, the same title of the album, 'No es lo mismo', in which Sanz expresses his political point of view, as in 'Labana' where he sings against the government of Fidel Castro.
He would work again with Paco de Lucía on another flamenco and magical song, 'Regálame la silla donde te esperé (Give me the chair where I waited for you)' 🪑.
Although critics praised the album, the reception from fans was somewhat cooler.
Alejandro would once again release a DVD of his tour, in this case recorded in 2004 at the Plaza de Toros de Las Ventas in Madrid. That same year he released a compilation called 'Grandes Éxitos 91-94 (Greatest hits 91-94)', with an unreleased track 'Tú No Tienes Alma (You don't have soul)'.
Alejandro Sanz and Shakira's first successful collaboration came in 2005 with 'La Tortura (The torture)'.
With this song he became the first Spanish artist to open an MTV Video Music Awards gala.
Alejandro has always been very supportive and has collaborated with different associations such as Médecins Sans Frontières and Infancia sin Fronteras. For the benefit of the latter, he held a photography exhibition in 2005.
He also visited the Arctic with Greenpeace to fight against climate change.
The darkest days of Alejandro Sanz
Alejandro Sanz and Jaydy Michel divorced in 2005, leaving him at a loss. Shortly afterwards, in December 2006, it was revealed that Alejandro had a secret son named Alexander Sanchez, the fruit of a short-lived relationship with a Puerto Rican fashion designer named Valeria Rivera.
Alexander was born in 2003, when the singer was still married to Jaydy Michel.
The young Alexander is currently dabbling in music, occasionally accompanying his father as a trombonist.
Alexander went public to avoid a blackmail attempt by his butlers. Because of all this, he would cancel his concerts and start going to therapy.
Furthermore, his beloved father, Jesús Sánchez Madero, passed at the age of 65.
Alejandro, who adored his father, was left alone in his house in Miami, began to paint compulsively and to compose the darkest album of his career, 'El Tren De Los Momentos (Train of Moments)' 🚂, released in 2006.
'El Tren De Los Momentos (The Moments Train)', featured many artists such as Juanes, Calle 13, Álex González from Maná, Carlos Baute and above all a new duet with Shakira, 'Te lo agradezco, pero no (I appreciate it, but I don't)'.
Another of the album's hits was 'A La Primera Persona (To the first who)', a song that talks about Alejandro's state of depression and how he asked for someone to help him get out of it.
The music video for the track, starring Spanish actress Paz Vega, is followed by the video for 'Te lo agradezco, pero no' and ends with the video for 'Enséñame Tus Manos', all three videos telling a single story.
A live DVD was also released, this time recorded during their 4th world tour at the River Plate Stadium in Buenos Aires. El Tren De Los Momentos, sold over 3 million copies worldwide.
Alejandro Sanz A la primera persona (To the first who)
Alejandro Sanz's favourite song is 'El Sitio de Mi Recreo' by Antonio Vega.
In 2009, Alejandro Sanz would return to his Pop origins, although with certain touches of Rock in the album 'Paraíso Express (Express Paradise)'.
At the age of 40, he made a declaration of intent with the first song, 'Peter Punk', in which he claims that the passage of time should not affect our illusions and that we should keep our rebelliousness and mischief.
The biggest hit was 'Desde cuando (Since when)', featuring Eva Longoria in its video. It is a ballad that regrets spending a lifetime looking for a person and when you find it, you are not even able to comunicate with them.
Another hit was his duet with Alicia Keys on 'Looking For Paradise', whom he met at Rock in Rio and became good friends with. The song invites us to look for our inner paradise.
Our favourite track on the album is 'Lola Soledad (Lola Loneliness)', which tells the true story of a transsexual, as a tribute to women in capital letters 🏳️‍🌈
Alejandro Sanz Desde Cuando (Since when)
Alejandro Sanz ft. Alicia Keys Looking for Paradise
Alejandro Sanz spent the whole of 2010 on a world tour with more than 90 performances in Latin America, the United States and Europe. That same year, 2010, the King of Spain awarded him the Gold Medal for Merit in Fine Arts. Alejandro went with his mother because she was looking forward to meeting the king.
In July 2011, Sanz would have his third son, Dylan, the fruit of his relationship with Raquel Perera, whom he married in 2012.
Alejandro and Raquel would have a second daughter, Alma, in 2014.
After 7 years of marriage Alejandro and Raquel would separate in 2019.
After a series of conflicts, in 2011 Alejandro broke with the record label WEA Latina, signing with Universal Music Group 📝
Before performing his lyrics in public, Alejandro Sanz shows them to his family and his close friend Miguel Bosé. After this test, and if all goes well, he undergoes the taximeter test: only when he hears one of his songs playing on the radio in a taxi can he judge whether the song is good or bad.
Another very complicated moment for Alejandro would be the death of his mother, María Pizarro Medina, in 2012. Alejandro wrote:
The boss is gone…Life goes on, but badly.
Sanz, who was very active on social media, became one of the most followed people on Twitter with 5 million followers.
Alejandro Sanz's return to music came in 2012 with the album 'La música no se toca (Music can't be touched)', with the participation of the Miami Symphonic String Orchestra.
He presented it with one of my favourite songs of his discography, 'No me compares (Don't compare me)'. The song talks about an internal struggle, an effort not to be compared to that other person who comes after you in a relationship.
Alejandro Sanz No me compares (Don't compare me)
Another of the hits from 'La Música No Se Toca' was 'Mi Marciana (My alien)' 👽. A funny way Alejandro found to talk about the person he loves. Not only does it mean that he loves her very much and that she is everything to him, but that she is so hard to get that only in Mars you can find her.
He carried on singing to love and heartbreak in, 'Se vende (For sale)' and 'Camino De Rosas (Way of roses)', demonstrating an evident artistic maturity.
Alejandro Sanz Mi Marciana (My alien)
In 2013 the city of Los Angeles declared 30 April 'Alejandro Sanz Day'
Two years later, in 2015 he released his tenth studio album, 'Sirope (Syrup)', in which he worked with Argentine producer Sebastián Krys, chosen for his quality and patience. The latter is a very important skill when you deal with Alejandro as he can be 16 hours straight in the recording studio and in the 16th hour say that there are only six or seven little things left to polish 🤣
Alejandro also likes to work and record alone for a long time, to have the freedom to do whatever he wants, with no one to judge him. Of course, at night so that no one interrupts him, especially his young children.
The first single from the album, 'Un zombie a la intemperie (A zombie in the open)' reached number 1 in 14 countries. This magnificent song talks about how human beings think that happiness is much less than freedom. The zombie reflects that disoriented person freezing in the street.
As in all of Alejandro's songs, he talks about emotions, looking for plasticity in the lyrics. For him, apart from the content, the way of saying things must have a beauty of its own, it must move you inside.
The second single, another of our favourites, 'A que no me dejas (I bet you won't leave me)', is a mid-tempo song alternating with mariachi, which also features a duet version with Mexican singer Alejandro Fernández. The song, far from being cocky, demonstrates the protagonist's fear that his partner, on whom he is totally dependent, will leave him.
Meanwhile, the third single, 'Capitán Tapón (Captain Dwarf)' was dedicated to his 3-year-old son Dylan. In Alejandro's words, the boss of his house. The track 'No Madura el coco (No Ripe coconut) 🥥' was a criticism of Nicolás Maduro's regime in Venezuela and 'Suena la Pelota (The ball sounds)', featuring Juan Luis Guerra, talks about taking happiness seriously.
Sirope (Syrup) was one of the best-selling albums of 2015 in the world and the best-selling album in Spain, as well as winning the Latin Grammy for Best Album.
Alejandro Sanz Un Zombie a la Intemperie (A Zombie in the Open)
Alejandro Sanz A que no me dejas (I bet you wouldn't leave me)
In 2016, he was immersed in his "Sirope VIVO" tour. By that time Alejandro had overcome his historical superstition that no one in the tour team wore yellow at the concerts. What he does retain are all his other habits before going on stage:
Exercising his voice in a tiled bathroom for reverb.
Eating something spicy like a jalapeño to keep his voice from drying out.
Hailing 7 complete times in a row and half more for each child.
Making a cross with his foot.
Only if you he does all those thing he can get into the right concert mood 🎤
Also in 2016 Alejandro released what for us is his best collaboration, with Marc Anthony in 'Deja que te bese (Let me kiss you)' (the story behind in the link).
In addition to this, Alejandro Sanz was a coach for several editions of 'The Voice' in Spain and Mexico 📺
In 2017, to celebrate the 20th anniversary of his album 'Más (More)', he held a unique concert at the Vicente Calderón stadium in Madrid. What he called 'the biggest success of his career'. The album was released in a CD + DVD version.
Alejandro would return at the end of 2018 with new material in the form of an album called '#ElDisco', presenting it with 'No tengo nada (I have nothing)', which addresses our obsession with owning things when in reality we don't own anything.
The album included 2 stellar collaborations. The first with Nicky Jam on 'Back in the city', and the popular 'Mi persona favorita (My favourite person)' with Camila Cabello.
After the great commercial acceptance of the album, the Spanish singer would start a new world tour with more than 75 performances.
Alejandro Sanz ft. Camila Cabello Mi Persona Favorita (My favourite person)
In 2019 Alejandro would be named Adopted Son of the city of Cádiz.
In 2020 he embarked on a new project in the form of a documentary. Under the title 'Un mundo fuera (A World Away)' he tells stories collected from over 4,500 people during the Covid-19 pandemic, recounting their reality.
Also in 2020 Alejandro was invited to participate in the opening ceremony of the Tokyo 2020 Olympic Games, singing John Lennon's Imagine virtually, because of the COVID ban.
In 2020 the Spanish singer-songwriter got a star on the famous Hollywood Walk of Fame. He is the ninth Spanish artist to receive such recognition.
On the occasion of his 30th anniversary in 2021, he released 'SANZ', an album that mixes all the sounds he loves, from black music and Caribbean sounds to pop and his flamenco origins. The album quickly became number one in Spain.
I present it with an autobiographical song called 'Bio' in which Alejandro tells his life story in a spoken form, singing only the final seconds.
On the sentimental level he began a relationship with Cuban artist Rachel Valdés in 2019 that would end after 3 years in 2023.
Since then, Alejandro has not stopped: he would sing 'NASA' with Camilo, would put music to Brad Pitt's movie Bullet Train, would publish the single "Soy/Sono" with Eros Ramazzotti and would embark on a tour that gathered almost 300,000 people in 2022.
That tour would continue in more than 70 concerts around the world in 2023 😵
As if that wasn't enough, in 2023 he would also release an EP titled 'Correcaminos (Roadrunner)' which included a single of the same name with Danny Ocean.
In 2023 Alejandro announced that he was leaving Universal Music, signing with Sony Music Entertainment, so we have a lot more music ahead of us.
Did you like Alejandro Sanz's story? Tell us about it
🙂