Harry Styles and One Direction Biography

[1994-2022] An ever-changing star
Harry Styles has changed, transformed and adapted over the years, overcoming One Direction's breakup, one of the most acclaimed teen pop bands in history, which is typically a career-ending move 💪 Discover Harry Styles' life and One Direction's story.
3 Songs to know
Harry Styles and One Direction
Story of My Life (One Direction)
Signed of the Times (Harry Styles)
Harry Styles y One Direction 
Trembol Card
🗿 Name:

Harry Edward Styles

. The band with which he became known is One Direction, also known as "1D".

🎂 Year:Harry Styles was born on 1 February 1994 in Redditch, UK. He was a member of One Direction from 2010 to 2016.
👫 Genres: Harry gravitates between soft rock, glam rock and pop. One Direction was pure pop.
♈ Nickname: Since his time at school, Harry Styles' nickname has been Hazza.
✍🏽 Signature:
🎻 Instruments: Harry Styles can play the guitar, piano and mirliton

 

😂

💿 Discography:

5 albums with One Direction, and three solo albums.

👬 Members: Niall Horan, Liam Payne, Harry Styles, Louis Tomlinson and Zayn Malik, who left the band in 2015
🔗 Harry Styles website: hstyles.co.uk
🔗 One Direction website: onedirectionmusic.com
That's the amazing thing about music: there's a song for every emotion. Can you imagine a world with no music? It would suck.
Harry Styles
Other great music stories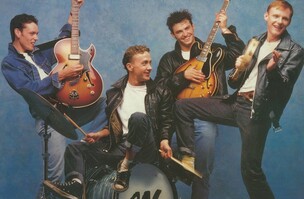 Wet Wet Wet. Story unveiled
Simon Webbe, Music that makes you smile
Dua Lipa. The new Pop queen
Harry Styles and One Direction |
Biography & Music
Harry Styles
 was born on 1 February 1994 in the UK.
He went from studying
, earning a small wage in a bakery and playing in his school band
to sell out stadiums with One Direction.
After 6 years of worldwide success, the band broke up for good in 2016. Harry transformed himself, leaving behind the 'good boy' image for a flamboyant style that leaves no one indifferent. 
His story is full of anecdotes, tattoos, famous partners, love for his family and, of course, a lot of music. Here you have the complete biography of Harry Styles and One Direction.
Chapter 1

| A boy fighting for his dreams
On 1 February 1994
Harry Edward Styles was born
in Redditch, Worcestershire, UK.
When Harry was a young boy, his family moved to the village of Holmes Chapel, very close to the cities of Liverpool and Manchester, where he lived throughout his childhood.
His parents, Desmond Styles and Anne Twist, divorced seven years after the birth of Harry, who also has an older sister called Gemma, whom he adores, and a half-brother from a later relationship his mother had.
During his childhood and teenage years, Styles attended Holmes Chapel Comprehensive School, where he and his friends eventually formed the band White Eskimo. Guess who was the singer? 🎤
With that band they emerged as
winner of 2009 Battle of the Bands
.
Apart from music, Harry worked for a while at a bakery called W.Mandeville. He earned £6 an hour 🍞
2010 would mean a turning point in the young Brit's life.
Harry always had a special feeling for music. Among his main influences were Elvis Presley, The Beatles, Norah Jones, Freddie Mercury and Shania Twain, of whom Harry's mother is also a big fan, and with whom he sang at Coachella 2022.
Chapter 2

| The X Factor & One Direction
With a casual look, his trademark curls and the full support of his family,
Harry Styles stepped onto the stage that would change his life:
It was 2010, he was 16 years old and Harry Styles decided to audition for the famous show

The X Factor

.

With Simon Cowell, Louis Walsh and Nicole Scherzinger as the judges, he performed Isn't She Lovely by Stevie Wonder.
Thanks to his talent and his beautiful voice, Harry made it to the next stage of the competition with the favourable votes of Scherzinger and Cowell, who assured that with training they could get the best out of the boy 👏
Harry Styles The X Factor
One Direction Viva la Vida
Although everything seemed to be smiling on the young man, surprisingly Harry was eliminated in the final phase to join the contest.
Just then Nicole Scherzinger came up with the idea of forming a band with Harry and four other boys who were also eliminated from the competition.
Thus, Harry Styles joined voices with Liam Payne, Zayn Malik, Niall Horan and Louis Tomlinson in what Styles himself would christen One Direction. Did you know that the group was almost called USP (Unique Selling Point)? This is what Liam Payne confessed years later in an interview 😲
With Simon Cowell as their mentor, the boys sang songs like Kelly Clarkson's

My Life Would Suck Without You

and Natalie Imbruglia's

Torn

 during their time on the show.
Harry Styles, the youngest member of the band
Harry Styles (1994) was part of One Direction with Liam Payne (1993), Zayn Malik (1993), Niall Horan (1993) and Louis Tomlinson (1991), being the youngest of all the members. In fact, for Harry, due to his age, it was the first time he could go to The X Factor casting.
Despite starting as favourites, One Direction ended in third place 3️⃣
Still they were the boyband of the moment, so Simon Cowell decided to sign them to Syco Music, and launch their professional career 🚀
Almost fresh out of The X Factor,
in 2011
 the five boys released their first studio album,
Up All Night
🌃
They became the first British group to debut on the Billboard 200 chart at number 1.
The album included one of One Direction's most iconic singles, What Makes You Beautiful. 
This was not the band's only single, although

Gotta Be You

,

One Thing

and

More Than This

, did not have the same impact as their predecessor.
Then One Direction embarked on a tour that would later have its own DVD, 'Up All Night: The Live Tour' 🌎
One Direction What Makes You Beautiful
The golden finale to the Olympic Games
It is well known that the boys were used to different arenas and stages, but what they could not have expected was to perform 'What Makes You Beautiful' at the closing ceremony of the 2012 Olympics, held in London 🔥
One Direction's career was still on the rise and it didn't take them even a year to release
Take Me Home
, their
2nd studio album
💿
We're always writing on the road, in hotels and airports. We don't want our music to sound like a 40 year old man in his office who wrote it and gave it to us to record. 
That the boys were making it big was a given, as this work far surpassed the figures of Up All Night, reaching number 1 in the UK charts for the first time 🔝
The chosen singles were: Live While We're Young, Little Things and Kiss You. The first two singles were very well received by fans and critics, something that did not happen in the same way with the third one.
One Direction This Is Us (Trailer)
During the
Take Me Home Tour
, the members of One Direction toured 4 of the 5 continents and also took the opportunity to record what would be their first documentary, entitled
This Is Us

🎥
Stars in the teenage firmament
1D was already so famous around the world that, in 2012, they even participated as guest artists in iCarly, one of the most successful series on Nickelodeon's children's and teen channel at the time 📺
During this time,
Harry Styles travelled to Los Angeles without his bandmates.
It is said that he started writing and recording music for a future solo career.
2012 and 2013 were very busy years:
The closing of the London Olympics.
The 2012 Children In Need fundraising gala.
The Royal Variety Performance, in front of the British Royal Family 👑
Sold out at Madison Square Garden in New York.
Harry Styles' discreet personal life
In 2012, Harry Styles was not only known for his professional success, as his brief romance with Taylor Swift, who would later write a song about him called Style (story in the link ❤️).
Nobody knows the reason why they broke up, although rumours suggest that he said something that she didn't like 🤔
Midnight Memories
, their 3rd CD, was released
in 2013.
Although the boys already knew what it was like to taste the sweetness of success, the truth is that with this work they went much further.
Midnight Memories became the album with the highest sales worldwide, surpassing 4 million copies 🔝.
Best Song Ever was the first single, a very premonitory and accurate title, but One Direction hit it even bigger with songs such as Story Of My Life, their biggest hit, or You & I.
One Direction Best Song Ever
In the midst of all the fame and success 1D started a new tour
in 2014
,
Where We Are Stadium Tour
, their biggest so far.
After the tour the band released a new DVD, Where We Are – The Concert Film 🎬
In addition, the band surprised with the announcement of an autobiographical book, which was released under the name Where We Are.
One Directon Night Changes
Just a year after the release of
Midnight Memories
, the boys released their 4th studio album,
Four,
in November 2014
.
The first single, and our favourite 1D song was Steal My Girl.
Night Changes, was not far behind in terms of figures.
But not everything could be good, that year, Paul Higgins, who was the group's manager from the beginning, decided to leave the project.
Just a year after the release of
Midnight Memories
, the boys released their 4th studio album,
Four,
in November 2014
.
The first single, and our favourite 1D song was Steal My Girl.
Night Changes, was not far behind in terms of figures.
But not everything could be good, that year, Paul Higgins, who was the group's manager from the beginning, decided to leave the project.
Compositions for other artists
Harry Styles was not only involved in One Direction's creative processes, but also wrote songs for other artists. Examples include Just a Little Bit of Your Heart, written especially for Ariana Grande, and Michael Bublé and Meghan Trainor's Someday, released two years later.
In 2015
Zayn Malik announced his departure from the band
, although this decision did not prevent the rest of the members from continuing in the project 😞
After an intense promotion in which they showed the world that they were ready to work on new music as a four-piece, in July of the same year they returned with Drag Me Down, the first single of their next album.
Finally, after two more singles, Infinity and Perfect, their last album 'Made In The Am' was released.
One Direction Drag Me Down
One Direction continued unstoppable, reaching the top of most charts worldwide and being recognised at several awards shows 🏆
For the album, the members of the group work with several artists and composers recognised in the industry but, without a doubt, the track 18 stands out, another song that Ed Sheeran wrote for the boys of One Direction after his participation in Little ThingsandMoments.
In November of the same year, One Direction released History as the third single from Made In The Am and from there, the dreaded indefinite hiatus arrived, leaving fans without a farewell tour or new projects on the horizon ☹️
Who was Harry Styles dating?
Meanwhile, what was going on in Harry Styles' personal life? Although there was never an official confirmation from the artist, the truth is that there were several rumours of romance in the air 💕
The first one claimed that Kendall Jenner was Harry Styles' girlfriend. In fact, they were said to have been together on and off between 2015 and 2016. What's more, Khloé Kardasian, Kendall's sister, confirmed it. Furthermore, they were spotted together sharing their downtime on a yacht on New Year's Eve in 2015 in St. Barts.
Another rumour suggested that Harry and Louis Tomilson were a couple, and that the time the two had shared in the band had brought them together in a special way. The truth? No one knows 🤔
After One Direction's hiatus, which heralded its end,
both the other members of the group and Harry embarked on solo careers.
For his first album, Harry worked in Los Angeles, London and Jamaica, where he became a fan of romantic films based on Nicholas Sparks' books.
The debut for Harry came in the form of Sign of the Times, an outstanding track.
Released in 2017, it reached number 1 in the UK music charts.
It was named the best song of 2017 by Rolling Stone magazine 📰
With this new work, Harry completely disassociated himself from the management company he worked with during his time with the band. He also joined Columbia Records and created Erskine Records, his own record label.
Harry Styles Ever Since New York
A month after the preview, Harry Styles released
his first studio album
with a more rock-oriented sound and an eponymous title (although Harry stated that he intended to call it
Pink
).
The record had 2 more singles: Kiwi and Two Ghosts. The latter is said to be about Styles' relationship with Taylor Swift 💄
Another of the legendary tracks from this first album is 'Ever Since New York'.
Along with the album, the tape 'Harry Styles: Behind the Album' was released, documenting the entire process of writing and recording the CD.
From this album there is also an amusing anecdote: Harry told in an interview that his stepfather mistook the effects on his voice for a duck in the song Woman 🦆
From stage to screen
That same year, Harry Styles entered the film universe for the first time thanks to his participation in the war film Dunkirk, directed by Christopher Nolan.
For the filming of this movie, he had to cut off his characteristic hair and decided to donate it to The Little Princess Trust 💇‍♂️
During the last half of

2017

 and the first half of

2018

Harry Styles embarked on 'Harry Styles: Live On Tour', his first solo tour.
In addition, Harry Styles became the face of Gucci for their fashion campaigns, participating in 2018 in the first of them 👒 Already before, on his tour and in the video for Kiwi, the artist had the opportunity to wear suits from the prestigious brand.
After this collaboration and incursion into the world of fashion, Harry Styles' way of dressing changed forever, as we have been able to see over time with his elegant, extravagant and fun outfits.
If the British artist had already achieved good results with his debut album, his next work catapulted him even further.
In 2019, Lights Up was released, the first preview of his new album Fine Line.
Fine Line reached the top of the charts in both the UK and the US.
Harry Styles said that while he was working in Fine Line he consumed a lot of hallucinogenic mushrooms 🍄 He said that one time he bit his tongue and had to sing while bleeding.
Harry Styles Watermelon Sugar
Scheduling problems and magazines covers
Harry Styles turned down the role of the prince in The Little Mermaid 🤴 although he did make a cameo in Eternals, released in 2021.
Also, in 2020, Harry Styles became the first man to be featured on the cover of Vogue magazine, where he broke stereotypes by wearing a dress 👗
After an extensive and successful tour, with a magical stop at the Coachella festival,
2022
comes loaded with projects from Harry Styles:
Harry's House 🏠, his third solo studio album.
Don't Worry Darling, a new thriller film starring Harry, sharing the screen with his partner Olivia Wilde.
🤔 Most Googled questions about Harry Styles and One Direction
Who is Gemma Styles?
As you might guess,
Gemma Styles
is Harry Styles' sister
. She is the eldest of the family. She was born in 1990 and, having graduated as a fertility expert from Seffield Hallam University, she now works in the world of social media and fashion, where she has her own brand of sunglasses
😎
When and why did One Direction break up?
Living with fame is complicated and even more so when you are part of one of the male bands of the moment. In fact,
it was the high exposure that brought about the end of the group
when Zayn Malik, one of its members, decided to put an end to the dream and lead a quieter life away from the spotlight and media pressure 😢
That happened in 2015, but it wasn't until a year later that the band's story came to an end, in what was originally going to be an "indefinite hiatus".
1D has never come back together. All members are focused on their solo careers. Even so, in 2020 there were several initiatives to celebrate the band's tenth anniversary, with the "10 Years Of One Direction".
When was One Direction formed?
The acclaimed group began life in 2010, when The X Factor judges brought together Harry Styles, Liam Payne, Zayn Malik, Louis Tomlinson and Niall Horan
 ❌
When will One Direction get back together?
Rumours have always pointed to a One Direction reunion, but the truth is that not even the band's tenth anniversary managed to culminate in a tribute in the form of new music.
What is Harry Styles' zodiac sign?
Harry Styles was born on 1st February 1994, which means that he was born under the zodiac sign of the
Aquarius
♒︎
What is the meaning of Watermelon Sugar by Harry Styles?
Watermelon Sugar
was, without a doubt, one of the songs of the summer of 2019 and it was everywhere! But,
what is it about?
🍉
Well, according to Harry himself during one of his concerts, the famous song talks about nothing more and nothing less than the female orgasm and specifically, about reaching climax in a certain way… But that's as far as we can go! 😛
Who is Harry Styles dating?
After several relationships with Taylor Swift, Kendall Jenner or even Nicole Scherzinger (who was one of the judges on The X Factor during Harry's time on the talent show),
Harry Styles has a stable relationship with actress and director Olivia Wilde.
They don't have a very public relationship, but since they worked together on the film Don't Worry Darling in 2020, the two have been very close and now there are even rumours of a wedding 💍
Is Harry Styles gay?
Since he began his solo career, Harry Styles has chosen to dress in clothes hitherto associated with the female gender. This trend in his wardrobe has given rise over the years to
multiple rumours about the Briton's sexuality. 
What women wear, what men wear – that's not what it's about for me. If I see a T-shirt that I like and I'm told 'it's for women' I think, 'OK, that doesn't mean I want to wear it any less now. I think the moment you feel comfortable with yourself that's when everything becomes easier.
On his sexuality, he has never come out, as he says he doesn't feel the need to define himself and that the way he dresses doesn't have to mean anything, as it's just about clothes.
Am I spreading nuggets of sexual ambiguity to try to be more interesting? No. In terms of how I want to dress and what I'm going to do with my album, I make decisions based on the people I want to collaborate and work with. I want things to go a certain way. That doesn't mean I have to look gay, straight or bisexual. I just do it because I like it. Also, I don't know, I think sexuality is kind of fun. Honestly? I can't say I've ever thought about it any other way.
Do you like Harry and 1D? Tell us
🙂